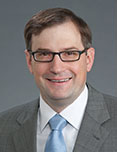 Bradley A. Clark serves as the executive vice president and chief financial officer (CFO) for Wake Forest Baptist Medical Center.
In this role, Clark oversees all financial functions of the Medical Center including accounting and financial reporting, treasury management, budgeting, financial planning and analysis, revenue cycle, payer relations and contracting, procurement, facilities, and real estate.
Prior to becoming CFO, Clark was vice president, treasury and treasurer of the Medical Center, responsible for its $1.6 billion investment program, $900 million in outstanding debt, and was the primary liaison to bank partners, rating agencies and investors.
Having joined the Medical Center's financial team in 2002, Clark advanced through numerous leadership roles with responsibilities in financial planning, revenue modeling, management reporting, strategy, real estate finance and treasury management. Prior to joining the Medical Center, Clark was with Wachovia Bank, N.A.
Clark holds a bachelor's degree in finance from Appalachian State University and a Master's in Business Administration from Wake Forest University.