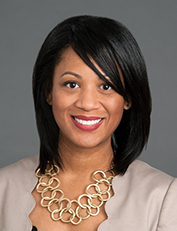 Jerri Irby is Vice President of Human Resources at Wake Forest Baptist Medical Center. Jerri leads Talent Management, Talent Acquisition, Employee Relations, Employee Assistance (EAP), HR Compliance, and the HR Business Partnership teams, serving all 20,000 faculty, providers and staff working as part of the system.
Jerri brings a diverse background of experience to her current role, having also served in senior HR roles across other industries, including financial services, insurance and manufacturing. Also an Engineer, Jerri spent the earlier years of her career with Accenture, consulting on business operations and processes. Over the course of her career, Jerri has supported many companies through growth and change, and has dedicated herself to helping organizations engage and retain their talented team members in order to achieve business success.
Jerri earned a degree in Mathematics from Spelman College, a Masters in Industrial Engineering from Georgia Tech, and her MBA from Stanford University. And Jerri is a proud member of Alpha Kappa Alpha Sorority, Incorporated. With a passion for arts, Jerri serves on the Board for nationally known arts and culture centers, museums and educational institutions, including UNC School of the Arts.