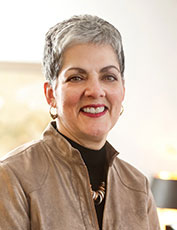 Joanne Ruhland is vice president for governmental relations at Wake Forest Baptist Medical Center. She has been employed by the Medical Center for more than 27 years.
Ruhland has been instrumental in securing $21 million from Congress through various agencies for the construction of an 11-story building to house the medical school's Nutrition Research Center, plus more than $30 million for the Piedmont Triad Research Park.
Additionally, she works with federal, state and local government officials in formulating health policies, especially relating to Medicare and Medicaid.
She is a past chairperson of the Association of American Medical Colleges (AAMC) Group on Government Relations Representatives, as well as a past chairperson of Premier's Federal Affairs Network.
In 2003, Ruhland won Premier's James L. Scott Excellence in Advocacy Award.
Ruhland holds an MBA in finance and economics from Appalachian State University.
She is a faculty member of the medical school's Department of Public Health Sciences. She is also a faculty member of the Calloway School of Business and the Babcock Graduate School of Management, Wake Forest University, where she teaches undergraduate and graduate courses in health management and health policy.