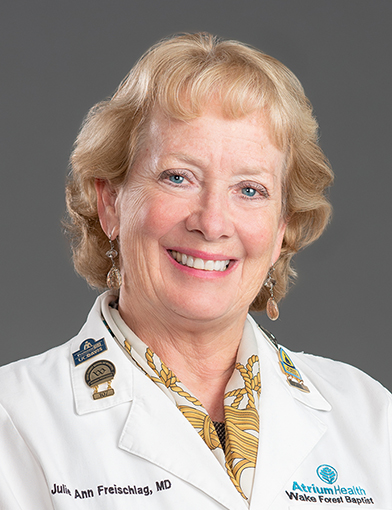 We are pleased to report that for the 2017 fiscal year, our spending on Community Benefits was $373.9 million. This figure includes our public outreach efforts and our support for research, education and all community programs. This is $4.2 million less than last year, which was a record high at $378.1 million, and represents a one percent decrease, year over year.
A great medical center heals with its heart as well as its skill and its science. We take this as our mandate and seek to make a difference where the problems of our patients and our neighbors are most challenging.
While we quantify the value of this commitment in the financial graphs that follow, we are most gratified to see it in the smiles, stories and renewed strength of our patients and our community. These stories include:
Wake Forest Baptist Health Davie Medical Center, where the families of Davie County have their first inpatient hospital in 61 years. Davie Medical Center provides access to world-class physician specialists in a broad complement of programs including Acute Care for the Elderly, Orthopaedics and Total Joint Replacement, Endoscopy, Imaging Services, Cardiac Rehabilitation, Ophthalmology, and Physical Therapy.
AirCare, in its 30th year of serving the region with emergency medical helicopter transport, saving lives as part of an EMS network serving North Carolina, Virginia, West Virginia, Tennessee and South Carolina with fast, safe transportation for critically ill and injured patients.
Our TeleStroke Network, increasing access to stroke care across the state, keeping stroke patients in their communities and transferring them for advanced therapies as needed, providing educational services and supporting its network hospitals.
Our Farm Fresh Healthy Living Program, providing low-income families with fresh, locally grown produce and educational resources on better nutrition practices, including: a 16-week share of seasonal produce; a hands-on program of cooking classes focused on incorporating fresh produce into family meals; and a farm tour to establish a connection between families and the farm.
We feel so fortunate to have the opportunity to serve patients and families in this region and we look forward to continuing the compassionate and innovative outreach efforts that help improve our community's health and quality of life.

Julie Freischlag, MD FACS, FRC(Edin)
Chief Executive Officer, Wake Forest Baptist Medical Center
Dean, Wake Forest School of Medicine