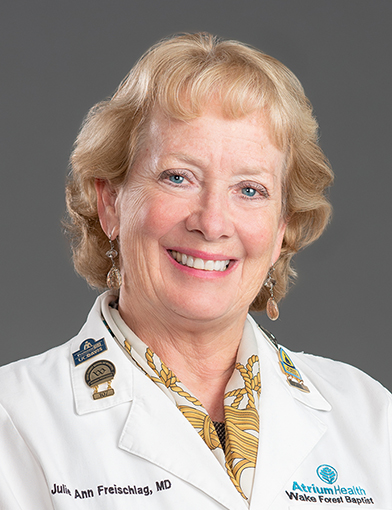 For the 2018 fiscal year, Wake Forest Baptist Health provided community benefits valued at $450.6 million. This figure includes our health care outreach efforts and our support for research, education and community programs across the health system for the fiscal year that ended June 30, 2018.
This is $76.7 million more than the previous fiscal year, which was $373.9 million. Factors contributing to the increase include the expansion of our health system, including the addition of Wake Forest Baptist Health Wilkes Medical Center and the legacy Cornerstone physicians group; an overall increase in patient volumes during the 2018 fiscal year; and improvements in qualifying patients for charity care.
A great academic health care system relies on a combination of skill, science and heart to provide healing. This is our mandate, and we embrace the challenge of resolving the problems that face our patients and our neighbors.
Beyond the financial graphs that are included here, we prefer to measure the impact that our contributions make through the improved health and renewed strength among the people we serve. Stories that illustrate that work this year include:
The Downtown Health Plaza, which, under the strong direction of Robert Jones, PhD, since 2007, has added innovative programs that reach underserved populations who need help the most. Often, as Robert has learned, those in need are found where faith and health intersect.
The Kohl's Cooks mobile kitchen, offered through our Brenner FIT (Families in Training) pediatric obesity program at Brenner Children's. The mobile kitchen serves low-income families twice a month in their own communities, offsetting the transportation challenges that some families face by taking interactive cooking classes into communities in need.
Highlighting the value of STEM (science, technology, engineering and math) education and careers for middle and high school students. A summer camp organized by the Wake Forest School of Medicine's Center of Excellence for Research, Teaching and Learning (CERTL) demonstrated that commitment to educating youth.
We are very fortunate to be able to serve patients and families in this region, and we look forward to continuing the compassionate and innovative outreach efforts that help improve health and quality of life throughout our community.

Julie Ann Freischlag, MD
Chief Executive Officer, Wake Forest Baptist Health
Dean, Wake Forest School of Medicine