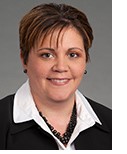 Carla has a master's degree in International Studies and over 18 years of experience in oncology education, research, health policy and health disparities.
Her current role, Health Equity Program Manager, includes developing disparities initiatives across all programs of the cancer center and identifying new opportunities for collaboration and growth. She is involved in ongoing outreach efforts in many of the regional underserved communities in northwest North Carolina.
In addition to her professional experience, she has a personal cultural and linguistic connection to the Hispanic community and is also a two-time young adult cancer survivor herself.
She serves as a patient advocate in the community and academic oncology setting and has spent over 10 years working with non-profit organizations that support cancer survivors. She brings a unique firsthand perspective to her oncology efforts and contributions to OCHE.