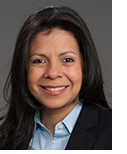 Maria Combs, BS, is the Hispanic Clinical Trial Patient Navigator for the Comprehensive Cancer Center. Her role gives her the opportunity to serve the Hispanic/Latinocommunity in navigating the complex medical system in a culturally and linguistically competent manner.
Maria provides support to cancer patients, caregivers and family members with a strong focus in giving them the opportunity to enhance their quality of life during diagnosis, treatment and after treatment completion, including educating patients about clinical research. Maria is also involved in community outreach, and with a legal background in the U.S. and Venezuela, she has a passion for empowering patients and communities.
Maria is always looking for opportunities to collaborate with other organizations in efforts to promote inclusion and reduce disparities in the Hispanic/Latino community.