Update: January 10, 2019
Starting Sunday, January 12, from 9 pm to 6 am, as weather allows, there will be nightly lane closures between Peters Creek Parkway and the I-40/Jonestown Road area to install new exit numbers on the west side of the Business 40 project. One of two lanes will be closed as crews work on the overhead signs.

Update: January 3, 2019
The NCDOT is changing Business 40 exit numbers to new exit numbers between U.S. 52 and Sandy Ridge Road starting the second week in January, weather permitting.

Work was originally scheduled to start in December, but rain postponed work until after the holidays.

Starting Monday, January 6, and continuing through Saturday, January 11, NCDOT crews will close lanes nightly from 9 pm to 6 am on Business 40 between U.S. 52 and Sandy Ridge Road. Work will start on the eastbound side, then shift to the westbound side.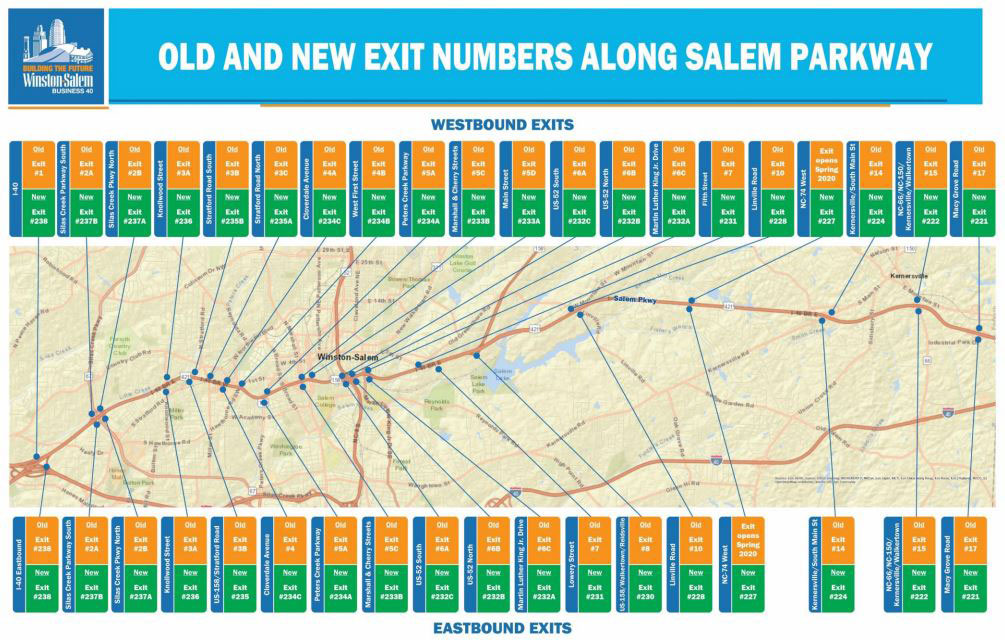 Tips For Your Trip
Navigation apps and websites to use while planning for your visit:
Waze: Use this app to share and view real-time traffic and road info with other drivers in your area. You can also see real-time alerts on your route for accidents, traffic jams and more.
Google Maps:Access this web mapping service for real-time traffic conditions (Google Traffic), route planning for travel, to view street maps and more.
MapQuest:Visit this website for driving directions, maps, live traffic updates and road conditions.
Maps of Alternate Routes to Wake Forest Baptist Medical Center
Additional Alternate Routes Maps