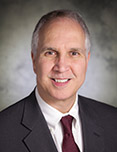 Will Showalter, Senior Vice President and Chief Information Officer, joined Wake Forest Baptist Medical Center in August 2017.
As a member of the executive management team, he provides vision and leadership for strategic development and management of information resources and technology to support our medical center's strategic objectives. He oversees the information technology services department, which is responsible for technology initiatives to deliver business enablement, transformation and customer value to Wake Forest Baptist Medical Center.
Will's career represents over 20 years of experience in health care IT leadership in academic and non-academic health enterprises, as well as industry. Within academic health, he has been the CIO for University of California Davis Health, SVP and CIO for Froedtert and the Medical College of Wisconsin, and Chief Information Officer for Fairview Health Services (University of Minnesota Health System). In the non-academic health care arena, he was VP and CIO for Mercy Health headquarters in St. Louis. Will also held various executive roles within Siemens Medical Solutions providing leadership in the Managed Services Division for delivery of applications, technology and consulting services to outsourced customers.
He is a member of the College of Healthcare Information Management Executives. Becker's Hospital Review named Will among its Top 100 Hospital and Health System CIOs in 2016 and 2017. Will served as one of two healthcare industry representatives on IBM Tivoli Software Board of Advisors for five years.
Educated at the University of Pittsburgh, Will holds a Bachelor of Arts degree in Computer Mapping and Imaging, a Master's of Public Administration, Master's of Urban and Regional Planning and a Graduate Certificate in Information Systems Management.