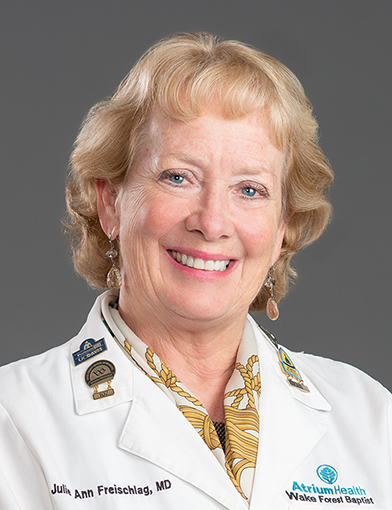 In fiscal year 2021, Atrium Health Wake Forest Baptist provided community benefits valued at $611.2 million for the fiscal year ending June 30, 2021. This is $15 million more than last year, which was a record high at $596.2 million.
Community benefits include charity care, unreimbursed care, education and research as well as community outreach programs and services that are offered system-wide across Wake Forest Baptist's 22-county service area.
As I reflect on fiscal year 2021, I am so inspired to recall how our physicians, faculty, advanced practice providers, staff, students and the community came together, going above and beyond, to care for each other and those who count on us, even as the global COVID-19 pandemic affected our institution and the communities we serve.
I am proud that we were the first health system in North Carolina – and one of the very first in the country – to receive the Pfizer COVID-19 vaccine. The next day we began vaccinating our first group of teammates and, thanks to the remarkable efforts of our leaders across our health system, we quickly began offering vaccinations to our older patients.
Our researchers and scientists led and contributed to clinical trials to measure the prevalence of COVID-19, help develop a safe and effective vaccine and find new treatments for critically ill patients. Numerous faculty members provided guidance, encouragement and timely information to our region, our state and our nation.
We came together with our community partners and with other health systems to develop innovative ways to increase access to COVID-19 vaccinations, testing and treatments, including in historically marginalized populations and those who live in underserved rural and urban areas throughout our region.
In addition, we helped improve stroke care for even more people across our state, worked with local paramedics to improve prehospital care in rural areas, reopened our free clinic, expanded our efforts to help families struggling with food insecurity, and our faculty continued their groundbreaking research to help improve the health of babies, children and adults.
I am excited to think of the possibilities our combination with Atrium Health, and our commitment to building a second campus of Wake Forest University School of Medicine in Charlotte, will bring. Together, we will be able to even better meet the increasing health needs of our entire region and increase the number of health care professionals who will serve communities across our entire footprint in the years to come.
Julie Ann Freischlag, MD
Chief Executive Officer, Atrium Health Wake Forest Baptist
Chief Academic Officer and Executive Vice President, Advocate Health
Executive Vice President for Health Affairs, Wake Forest University