Carla Strom, MLA
Assistant Director, Operations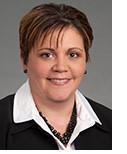 Carla has a master's degree in International Studies and over 20 years of experience in oncology education, research, health policy and health disparities. In her current role as the Sr. Manager for Cancer Health Equity, she provides oversight and guides operations for the office as well as leading grant writing and community capacity building efforts. She is also a leader for the WFBCCC's Community Outreach and Engagement activities and supports Cancer Center Members research endeavours.
In addition to her professional experience, she has a personal cultural and linguistic connection to the Hispanic community and is a two-time young adult cancer survivor herself. She serves as a patient advocate in the community and academic oncology setting and has spent over a decade working with non-profit organizations that support cancer survivors. She brings a unique firsthand perspective to her oncology work and contributions to OCHE.
---
Maria Combs, JD, OPN-CG
Hispanic Patient Navigator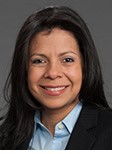 Maria Combs, BS, is the Hispanic Clinical Trial Patient Navigator for the Comprehensive Cancer Center. Her role gives her the opportunity to serve the Hispanic/Latino community in navigating the complex medical system in a cultural and competent manner. Maria provides support to cancer patients, caregivers and family members with a strong focus in giving them the opportunity to enhance their quality of life during diagnosis, treatment and after treatment completion, including educating patients about clinical research.
As a Navigator, Maria can provide support during medical appointments, address any questions and concerns; at the same time she is knowledgeable of the resources available in the community in order to eliminate or reduce barriers to care.
Maria is also involved in community outreach, and is passionate to empower patients from active treatment through survivorship, always looking for opportunities to collaborate with other organizations in efforts to promote inclusion and reduce disparities in the Hispanic/Latino community.
---
Kelsey Shore, CCRC
Research Program Manager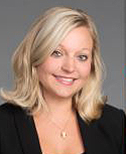 Kelsey manages the research portfolio for the OCHE. Through education and outreach, she helps improve communities' understanding of the role of research along the cancer continuum. Kelsey helped develop and co-leads the Advocates in Research and Medicine (ARM) Program, designed to create bidirectional communication by training lay-persons to serve as advocates, working alongside investigators throughout the research process. Kelsey serves as a research consultant, offering support and expertise in various areas, including increasing diversity in clinical trials. She's especially passionate about capturing patient's stories, which is critical to implementing change in policy and practice, as well as identifying needs and opportunities for further research exploration.
Kelsey has a bachelor's degree in Human Relations from High Point University and recently completed the Narrative Medicine Professional Certificate Program at Columbia University. She is also a Certified Clinical Research Coordinator, with experience conducting a variety of research projects and clinical trials.
---
Emily Britt, MSW
Rural Patient Navigator


Emily Britt, MSW, is the Rural Patient Navigator for the Comprehensive Cancer Center. Her role is to provide navigation services to patients coming from rural communities. She is dedicated to helping patients, families, and caregivers navigate not only the healthcare system, but care throughout the cancer continuum. Through a psychosocial lens, she identifies and addresses potential barriers patients might have in receiving quality cancer care and follow-up. She also serves as a community liaison and works closely with community-based providers to address community needs for services and collaborate on educational opportunities regarding cancer care. As a social worker, Emily enjoys building relationships and empowering patients throughout their cancer journey.
---
Elias Berhanu, MPH
Community Outreach Coordinator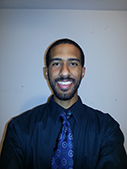 Elias Berhanu is the Community Outreach Coordinator in the Office of Cancer Health Equity. In his role, he is committed to enhancing community engagement throughout the Cancer Center's catchment area. Elias helps bring the community's voice to the state policy level through his involvement in the NC Advisory Committee on Cancer Coordination and Control (ACCCC). Elias helped organize a successful "Dress in Blue Day" event at Wake Forest Baptist Health during Colorectal Cancer Awareness Month. Elias received his Master of Public Health (MPH) degree from the University of Texas School of Public Health in Houston & his bachelor's degree from the University of Washington in Seattle.
---
Aeriel Diaz, BS, CHES
Community Health Educator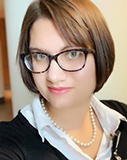 Aeriel Diaz serves as the Community Health Educator in the Office of Cancer Health Equity. In her role, Aeriel cultivates partnerships through community outreach activities and implementation of educational and tobacco cessation programs within the underserved population. She is passionate about helping others make lifestyle changes to prevent serious health issues. Aeriel is a Certified Health Education Specialist, with over 5 years of experience in Health Education, specifically in Tobacco Cessation and Condition Management. She also has a BS in Public Health with a concentration in Community Health Education.
---
Alexis Daniels, MS
African-American Patient Navigator


Alexis Daniels is a Population Health Navigator in the Office of Cancer Health Equity. In her role, Alexis helps African American cancer patients navigate through the medical system in a culturally competent manner, providing individualized assistance to patients, their families, and caregivers. She also serves as a community liaison and works closely with community-based organizations and churches to address community and educational needs. Alexis has 15 years of experience in human services which includes mental health, law enforcement, counseling, case management and advocacy. She received her MS and BS in Criminal Justice from Grambling State University. Together with the Hispanic and Rural Population Health Navigators, they form a team that exemplifies providing culturally sensitive and linguistically concordant care.
---
Lekala Moore, BS
Event and Administrative Coordinator


Lekala Moore is the Event and Administrative Coordinator for the office. In her role, she helps with the day-to-day operations of the office by providing support to all of the team members through anticipating needs and maintaining the inventory of outreach supplies. She coordinates all of the office's internal and external events such as Dress in Blue Day, the East Winston Town Hall, and community health fairs. This includes managing administrative logistics of event planning, including contracting, budgets, bookings and promotions. Lekala also manages the offices' social media accounts. Her BS is in Healthcare Management from Winston-Salem State University which encompasses her passion through their mission "A Mind for Business. A Heart for Healthcare. A Degree for Both."