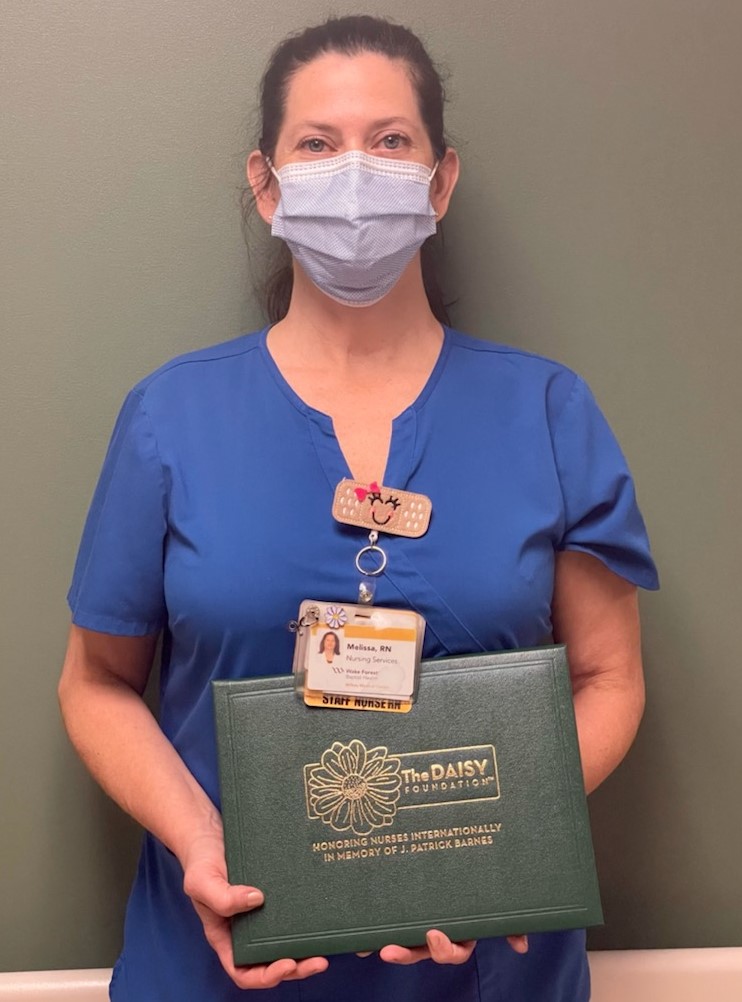 Atrium Health Wake Forest Baptist Wilkes Medical Center proudly announced Melissa Hamby, RN as the hospital's latest DAISY Award winner on August 12, 2021.
The DAISY Award is a nationwide program that rewards and celebrates the extraordinary clinical skill and compassionate care given by nurses every day. Wilkes Medical Center recognizes one of its nurses with this special honor every quarter. Each honoree receives a banner, certificate, DAISY Award pin and a hand carved "A Healer's Touch" stone sculpture.
When Melissa was asked why she decided to become a nurse she had this to say: "I became a nurse because I wanted to help people. I never realized how much the words 'You've been so kind,' or 'Thank you for all you've done,' from a patient could truly touch my heart. Although nursing has its challenges, it's worth it to make a difference to one person."
Melissa's manager, Debbie Mancusi, RN, said: "Melissa has several years of experience taking care of post op surgical patients. She is a fantastic preceptor and team mate with a great sense of humor. Melissa participates in Area Based Governance (a council that consists of a representative from each department to discuss relevant topics and to have a voice in decision making that affects the nursing staff) and plays an important role collaborating with other nursing representatives to have a voice in shaping processes that affect the staff. She is a compassionate, wonderful nurse and we are so thankful she's on our team!"
The next DAISY Award winner will be announced in October 2021.
Previous DAISY Winners