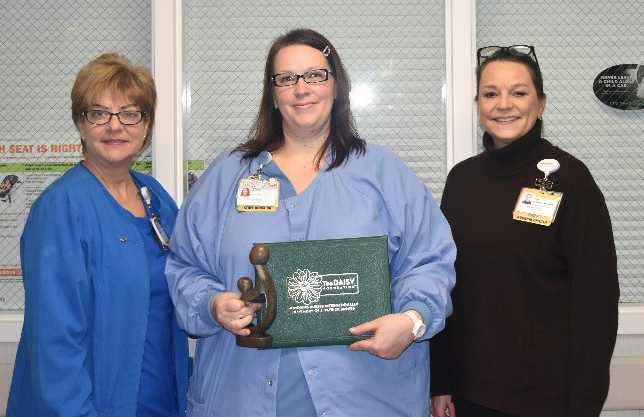 Wilkes Medical Center proudly announced its 2nd DAISY Award Winner, Erica Hefner on January 27, 2020.
The DAISY Award is a nationwide program that rewards and celebrates the extraordinary clinical skill and compassionate care given by nurses every day. Wake Forest Baptist Health Wilkes Medical Center plans to recognize one of its nurses with this special honor every quarter. Each honoree receives a banner, certificate, DAISY Award pin and a hand carved "A Healer's Touch" stone sculpture.
When asked what she enjoys most about being a nurse, Erica had this to say:
My name is Erica Hefner and I'm honored to receive the Daisy Award however, I don't do this work of Nursing for any recognition or praise. That's not what I got into Nursing for. I'm grateful for this opportunity to tell my story. That internal battle with maintaining compassion for others even when we don't feel that others deserve it sometimes. We nurses become too often jaded with experiences that too often makes "our blood boil or run as cold as ice." We see others at their best and more often at their worst and most vulnerable. We have experiences and faces that we will never forget no matter how hard we try. We make a difference in their lives and they do remember how they are treated when they are at their best or worst. It's not my place to pass judgement but to just to do my best. Getting a simple "Thank you" makes it all worth it.
I've been a nurse since 2008 which seems like ages ago at times but I cannot fathom doing anything else. I literally have the best job in the world. Even on the worst days, and trust me in OB/Nursery we nurses have horrific days. I don't remember a specific event but at the age three I feel that God placed the desire on my heart to be a nurse. I jokingly tell people that I must've been a nurse in a past life or something because it's been a consistent driving force in my life for as far back as I can remember. I certainly didn't get through Nursing School without God's grace and mercy. For that I am certain. I've always had this unexplainable inner "old nurse feeling" for example, the way I swaddle my newborns and odd Deja' vu moments from time to time. My mother fondly tells the story of my early nursing career goals by saying "I couldn't keep a single band aid in the house for she was constantly fixing her dolls and stuffed animal's imaginary boo boos." In tidying up our playroom she would find, for instance, a doll or teddy bear that had a bandage on its arm or leg, as well as, a red ink pen (my imaginary syringe) or an ink pen that I had taken apart, down to just a hollow tube then taped on its arm as if it was getting a shot or IV administration of some sort. I even think she has a picture that I drew of me as a nurse, tiny white hat and dress with babies in bassinets all around me. Also, I have a relative that became a nurse while raising her family. She and her family happened to move into our housing development when I was an adolescent and remembers me ringing her doorbell during the day while she was sleeping. She jokingly remembers this because she worked the night shift at the time and here is this annoying relative ringing her doorbell asking if I could borrow one of her Nursing textbooks instead of asking to play with my cousins or swim in their lovely pool. She graciously obliged my request and gave me a book every single time. I got the pleasure to work beside her later in my Nursing career when I started in OB/Nursery and she would tell my other coworkers this same story.
I could go on and on but the real reason I became a nurse is to help others and make some difference while I'm here on this earth. It's an extremely profound experience like no other to share in the splendor of witnessing a baby taking its first breath or honoring someone while they take their last. I don't always succeed but my hope is that if I can make someone's experience better or impact their life in a positive way then I've been a good servant.
Comments from Erica's Manager Debbie Mancusi, RNC
"Erica joined WFBH/Wilkes Medical Center in 2018 and came to us with over 10 years of experience. Her strengths include a motivation to teach new parents, a compassion for helping families to have a joyous birth experience and a positive approach to teamwork. She was nominated by a patient who praised her non-judgmental approach to patient care. Erica helps new parents understand sometimes complicated processes and procedures with patience and understanding. New Beginnings Birthing Center is honored to have a recipient of the Daisy award on our team. It is very much deserved!"
- Debbie Mancusi, RNC, Nurse Manager
Comments from WMC's CNO Susan Bachmeier
"We are so pleased to be able to recognize nurses in this way each quarter. We had over 34 nominations this cycle and all of the nominations were from our patients. We are so proud of the impact Erica makes on our patients each and every day, and are happy we have this opportunity to express our gratitude to nurses. We are also grateful to our patients and their families who take the time to nominate an outstanding nurse."
Previous DAISY Winners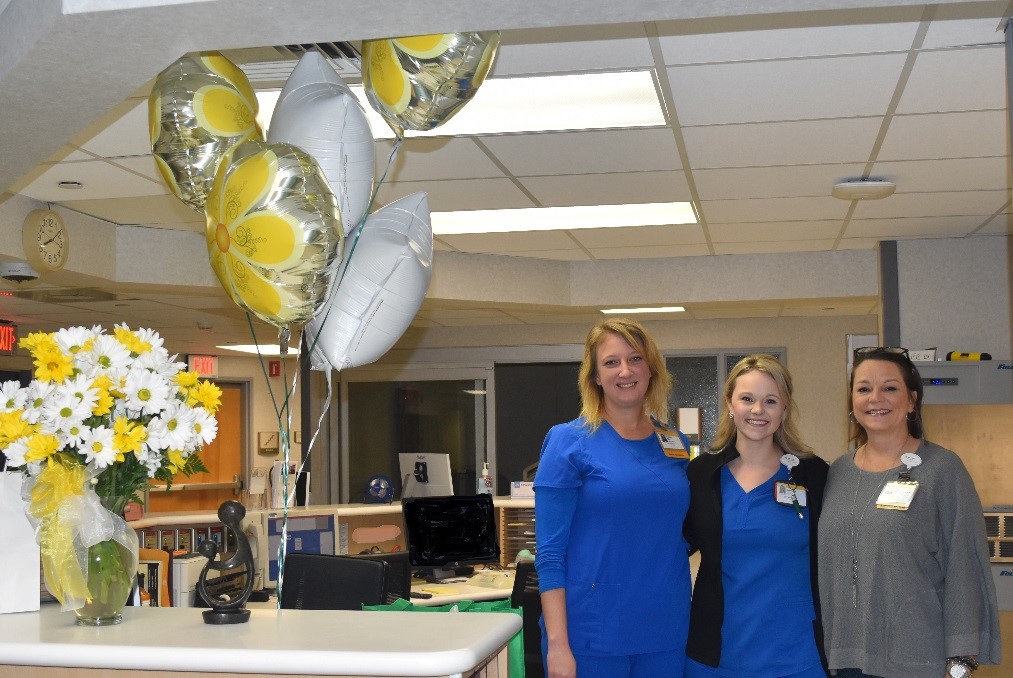 Daisy winner Jessica Absher and other nurses. Wilkes Medical Center proudly announced its first Daisy Award Winner, Jessica Absher on October 16, 2019.
The Daisy Award
is a nationwide program that rewards and celebrates the extraordinary clinical skill and compassionate care given by nurses every day.
Wake Forest Baptist Health Wilkes Medical Center plans to recognize one of its nurses with this special honor every quarter. Each honoree receives a banner, certificate, DAISY Award pin and a hand carved "A Healer's Touch" stone sculpture.
Jessica Absher has spent her entire five year nursing career at Wilkes Medical Center.
One of Jessica's coworkers nominated her for the DAISY Award. In the nomination letter, one event stood out as an example of her work ethic. Jessica was moments away from clocking out at the end of a long 12 hour shift when she heard a code being called which meant that a patient needed help. She pulled her badge back and ran down the hall to help.
When asked what she enjoys most about being a nurse, Jessica had this to say:
"More than anything, I love knowing that I may play a small part in the healing process for patients and families. Many times that may be through nursing care to help them achieve the level of health and independence that they had prior to hospitalization and other times that means holding the hand of a sweet soul and their family as their loved one passes into eternity with peace and dignity. Not just the patients, but I enjoy the facility that I work at and my amazing co-workers, who have become family. Wilkes Medical Center has the small-town hospital charm that so many large facilities lack. I consider myself fortunate to work with these wonderful individuals at Wilkes Medical Center."
"From the time I was a child, family and friends jokingly called me 'Mama Jessi' because of my overwhelming need to coddle and cure everyone around me. As I grew and began to contemplate a career, I was drawn to the nursing field because of my desire to care, serve, and help others. Fast forward five years and I now have the career I always dreamed of, along with a wonderful and supportive husband and two precious children."
"There have been many experiences that have made me realize how mentally and physically exhausting you can become trying to balance home life and this incredible profession, but never for a minute have I regretted my career decision or desired anything different in life. For all the bad that comes with the job, the good has always outweighed it. God didn't place us on this earth to be idle, he gave us all a purpose and mine is to care for others until he decides my time is done."
Jessica's coworkers enjoy working with her and said she treats every patient as a beloved family member and is a strong advocate for her patients.
Heather Gibb, nurse manager of the intermediate care unit (IMCU) and the intensive care unit (ICU) commented, "often times it is the power of a touch, smile, kind word, or listening ear that has the potential to turn life around and bring comfort to those in their most dire moments. Jessica exemplifies this caring and compassionate persona. I have had the privilege to be able to work beside Jessica and watch her grow from a new nurse, eager to learn, on our intermediate care unit; to a confident nurse in our intensive care unit. I am proud of Jessica and all that she has accomplished in her service to others and her commitment to the health and wellness of our community."
"Not only did we have an outstanding winner in Jessica, but we had more than 20 nominations," said Susan Bachmeier, chief nursing officer at Wilkes Medical Center. "We are so proud of our nurses and are grateful for all they do for our patients and our community every day."
The next winner will be announced in January.