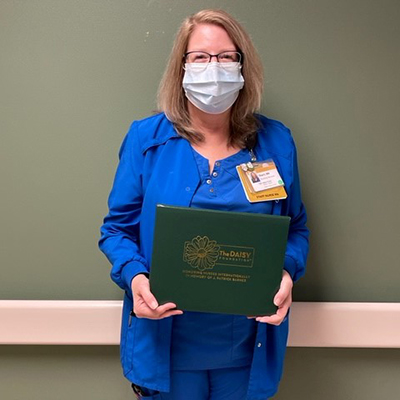 Atrium Health Wake Forest Baptist Wilkes Medical Center proudly announced Sharri Porter, R.N. as the hospital's latest DAISY Award winner on October 18, 2021.
The DAISY Award is a nationwide program that rewards and celebrates the extraordinary clinical skill and compassionate care given by nurses every day. Wilkes Medical Center recognizes one of its nurses with this special honor every quarter. Each honoree receives a banner, certificate, DAISY Award pin and a hand carved "A Healer's Touch" stone sculpture.
When Sharri was asked why she decided to become a nurse she had this to say: "Being honored with the DAISY award was a complete surprise to me. The patient's kind words and generous compliments mean the world to me. To know that my care had such a positive impact touches my heart deeply. I sincerely hope that my career has blessed my patients over my 33 years in health care. I know they have taught me about compassion, dignity and strength throughout the years. I was encouraged by both my grandmothers to pursue a career in nursing. They felt I had the heart and compassion to care for others. Although they are no longer with me, both of them remain role models in everything I accomplish in this field."
Sharri's manager, Rebecca Church, R.N., said: "Sharri is very deserving of a DAISY award. She has been a valued employee of Wilkes Medical Center for over 25 years. Not only is Sharri a skilled provider of care but she is also compassionate and truly cares about each of her patients. She is a nurse who you want taking care of your family member. Sharri serves on the Area Based Governance committee and the fall prevention team. She has been a part of bringing positive change and an increase in patient safety to our facility. Sharri is a team player and she is always willingly to go the extra mile to help someone. She is an integral part of the surgical unit and I am so proud that she is part of our team."

The next DAISY Award winner will be announced January 2022.
Previous DAISY Winners