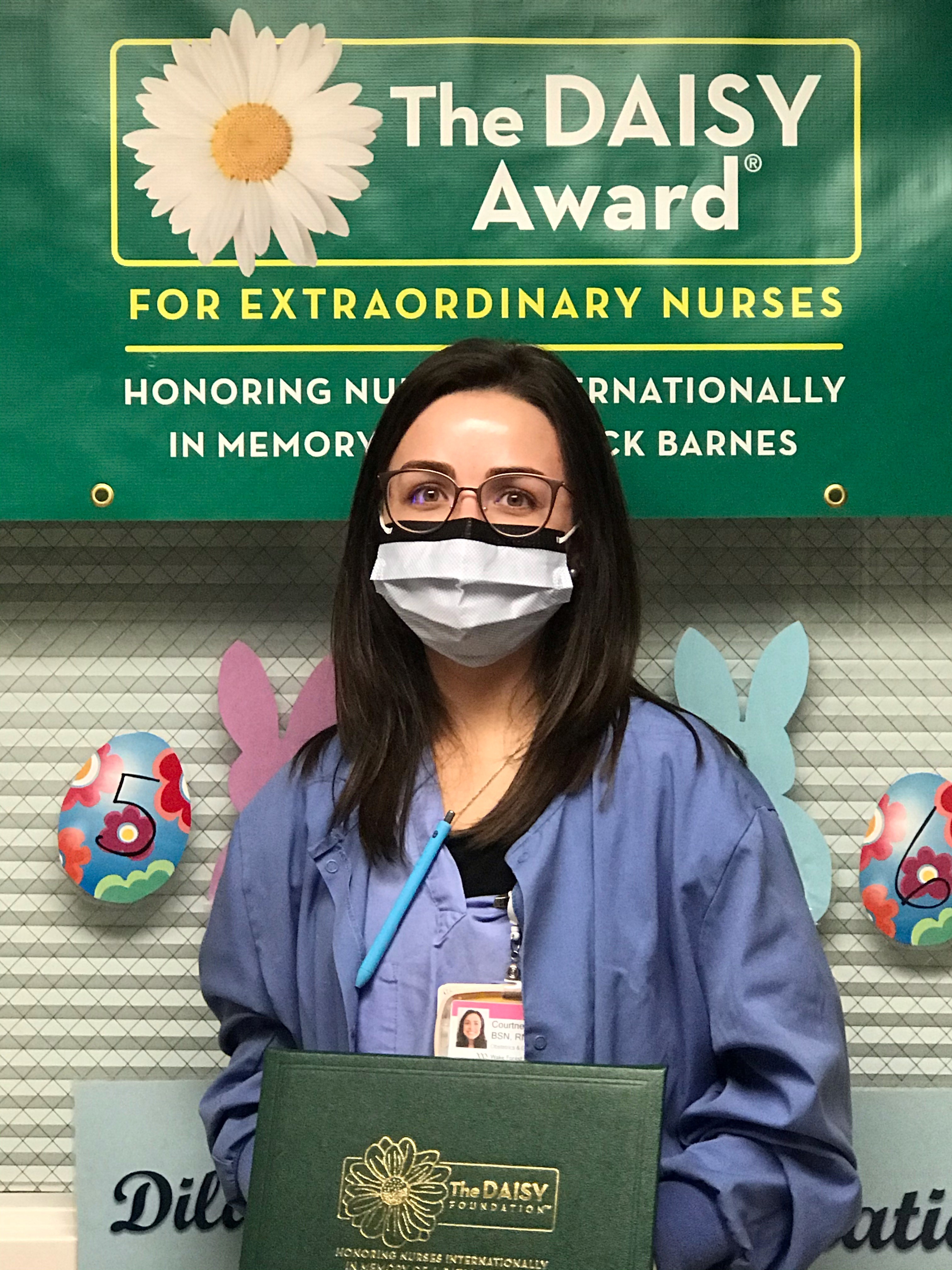 Wilkes Medical Center proudly announced Courtney Dula, RN as the hospital's latest DAISY Award winner on April 20, 2021.
The DAISY Award is a nationwide program that rewards and celebrates the extraordinary clinical skill and compassionate care given by nurses every day. Wake Forest Baptist Health Wilkes Medical Center recognizes one of its nurses with this special honor every quarter. Each honoree receives a banner, certificate, DAISY Award pin and a hand carved "A Healer's Touch" stone sculpture.
When Courtney was asked why she decided to become a nurse she had this to say: "When I was younger my grandmother, or as everyone else knows her 'MomMom', would always take care of her children and grandchildren. She cared for us and showed us compassion regardless the severity of a situation, sickness, or injury. I have always wanted to be just like my MomMom, and for me that meant becoming a nurse. In my role as a nurse I am able to provide love, encouragement, and support to my patients and their families. My hope is that each one of my patients feels valued, loved, and cared for after leaving the hospital."
Courtney's manager, Debbie Mancusi, RN, said: "Courtney has transitioned from an excellent surgical nurse to an excellent OB nurse and I have had the pleasure of being her manager for both! She began her career at Wilkes Medical Center as a student/ CNA and is now an experienced OB nurse, providing care to laboring moms and very sick newborns. Her leadership skills include covering the relief charge nurse role where she has demonstrated essential critical thinking skills. Courtney is an incredible asset to our organization".
The next DAISY Award winner will be announced in August 2021.
Previous DAISY Winners