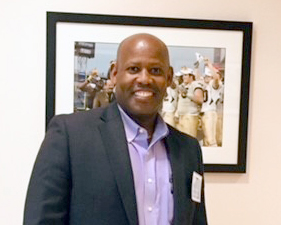 Francis Almonor, BS, RRT, RCP, manager, Respiratory Care Services, Atrium Health Wake Forest Baptist Medical Center, joined the organization in March 2001. He focuses on hiring the right therapists and ensuring they have the proper equipment and the education they need to provide exceptional and compassionate care to our patients and their families.
Why did you choose a career in health care?
From a very young age, I knew I wanted a career in health care. Growing up in Haiti, I remember going to the hospital to visit my best friend, who had a congenital heart defect. I was always impressed with the young interns in their immaculate white lab coats. I wanted to be one of them and to ease people's suffering. A few years later, I landed in New York City, on my own for the first time, living with my uncle. As the second oldest of six children, I had to provide for myself and send remittances back home on a dishwasher's salary. I still wanted a career in health care, but medical school was out of reach until a friend introduced me to respiratory care. Eventually, I enrolled in the respiratory care program at Nassau Community College in Long Island.
What attracted you to Atrium Health Wake Forest Baptist?
After graduating, I worked part time at a Long Island hospital and full time for a home care company. I really wanted to work more in critical care. Then, a colleague moved to North Carolina to take a position at Wake Forest Baptist. He later contacted me and recommended that I apply here, which I did. A few days later, I was invited for a face-to-face interview with the department director, who offered me a job the same day.
What do you enjoy most about your work?
It sounds like a cliché, but in my case, it is absolutely true. I enjoy my teammates—their commitment, support and desire to achieve more together. One of my respiratory care teachers used to tell us, "If you cannot breathe, nothing else matters." I value our respiratory therapists' contributions toward helping our patients breathe better. As a leader, I always try to put myself in my teammates' shoes. I try to be fair and understanding while holding everyone accountable.
How has the COVID-19 pandemic affected you, and what helps you cope?
COVID-19 has affected me in profound ways, both professionally and personally. Professionally, I have watched my therapists come to work daily knowing the potential risks for them while caring for our patients. I have seen a lot of them get infected with the virus and still, after recovery, they come back because they know the team needs their expertise for the survival of our patients.
Personally, I lost both my mom and my dad less than a year apart to COVID-19 early in the pandemic. I never got a chance to see my dad while he was in the hospital. I watched his funeral on Zoom. That was the hardest thing I've had to endure in my life. A few months later, my oldest sister was in the ICU on a ventilator for weeks with COVID-19. Miraculously, she survived. My mother survived COVID-19 at first, but she unexpectedly collapsed at home and died a few months after my dad.
The theme of Black History Month this year is Health and Wellness. Tell us about a Black person, famous or not, who especially inspires you in this field.
The person who has been most influential in my life has to be my dad. He instilled in me a great work ethic, and a devotion to God, country and family. He made sure all his children had a solid education.
What is the best advice you've ever received?
The best piece of advice I've ever received was a non-traditional one. As a senior in high school in Haiti, our physics professor told his class of 20 young men: "You guys are bright and represent the best the country has to offer, but unfortunately there is one door open to you. It is the airport gate. Go through it and look for opportunities elsewhere." I did!
What is special about your family, children or pets?
My wife has been in law enforcement for 20 years and every time we go to a function, people always assume she is in health care, and I am in law enforcement. Because of her small frame, they're always surprised to learn that it is the opposite.