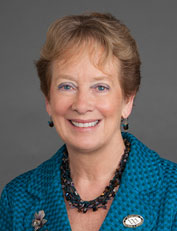 A message to all Wake Forest Baptist staff, students, providers and faculty from Julie Ann Freischlag, MD, FACS, FRCSEd(Hon), DFSVS, CEO and Dean
I write to you today because we cannot remain silent. The deaths of George Floyd, Ahmaud Arbery and Breonna Taylor are just the most recent and devastating tragedies in our country that call on us to do more.
It has been illustrated all too well that the experience of being Black/African American in our society carries a disproportionate and unfair burden. The pain we have witnessed this past week alone is horrifying and heartbreaking. Recent events show the racial divides that absolutely must not be tolerated.
While I do not have the answers to solve these endemic racial problems, I am truly concerned about the pain and trauma that so many of our Black/African American friends, colleagues and loved ones are experiencing, and especially those who are part of our Wake Forest Baptist Health family who provide the highest quality care for our community.
I join you in mourning these tragedies and hope and pray we can come together with open hearts and minds to deeper empathy, communication, accountability and responsibility. I believe passionately that working toward inclusive environments where we know each other as individuals will create a more just and equitable world. I also believe that compassion, authenticity and vulnerability will enable the learning that brings us together.
I encourage each of us to think of ways that we can create and reinforce a more inclusive environment. If you are unsure of where to start, our WAKE Active Bystander resources are a powerful tool for being active when you see something that is inconsistent with our values. There are also Affinity Groups, which are groups that have come together around a common identity or experience. We have an active Black/African American and Allies group, as well as a number of other groups that provide support, mentorship, kinship and educational opportunities for all.
I call on each of us to be better listeners, raise our voices and work together for positive change to eradicate racism and promote a healthy, safe and just community and society for all.
Inclusion and equity are a priority at Wake Forest Baptist Health. We completed our Year of Inclusion, but our work is not done. We continue to build our resources, tools, research and teaching to support inclusion. We are committed to this work and stand by our Black/African American community.