The time immediately following a cancer diagnosis can be emotionally challenging, raising many questions and creating anxiety for patients and their families.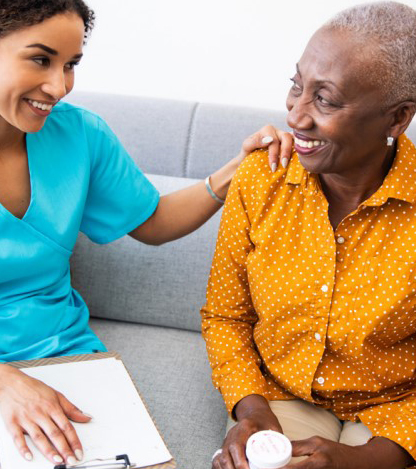 At Hayworth Cancer Center, now part of Atrium Health Levine Cancer, we take a patient-centered approach to care. Our Oncology Patient Navigator Program provides a specially trained, diagnosisspecific nurse navigator to newly diagnosed cancer patients. The navigator serves as the primary point of contact for coordinating care, navigating the complexities of scheduling appointments and tests, and identifying financial counseling and other support services.
Our navigators provide a broad spectrum of care to help patients, families and caregivers as they face cancer care barriers. For each patient they serve, our navigators:
Educate
Assist patients, families and caregivers in understanding their cancer diagnosis and treatment plan
Explain care protocols and paperwork, and help complete forms
Connect patients with financial navigators who can help with understanding insurance and financial questions
Advocate
Proactively identify opportunities for additional care, services and support for patients based on their specific needs and connect patients with those resources
Remain readily available for patients to contact about treatment, medication, symptoms, quality of life and supportive care
Coordinate Care
Help minimize the time it takes to be seen by a physician
Coordinate with other health care providers such as pharmacists, radiologists and survivorship providers
Ensure patients have proper referrals for care and assist in scheduling appointments
Connect patients to cancer-related resources and support programs, such as the LoveLine Cancer Support Program, whose services enhance the quality of life for patients, family members and caregivers
For patients, benefits include:
Decreased time from diagnosis to treatment
Better understanding of diagnosis and care plan
Improved quality of life
Greater peace of mind knowing you have a partner in care who is an advocate for you
Contact information:
You will be provided with direct contact information for your nurse navigator.
If you have a medical emergency, please call 911.