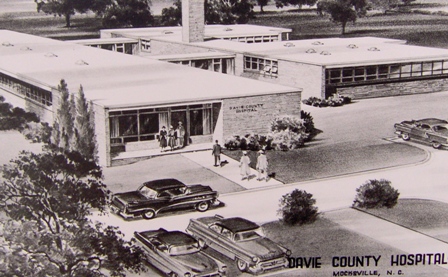 Hospital planning in Davie County began as early as 1947 when residual trust money from the estate of George T. Brown, late president of Brown-Williamson Tobacco Company, was earmarked for a hospital. Local civic leaders held an organizational meeting in January 1953, and, by the fall of that year, the hospital's first board of trustees was working closely with architect William Moore Weber of Raleigh to plan for the building.
Members of the first board - J.K. Sheek, Ted Junker, Buelah Appeson, B.T. Browder, Vernon Miller, Virginia Rowland, R.L. Seaford, Claude Cartner and J.D. Reavis - worked diligently to secure additional funding from sources including the Federal Hill-Burton Funds, State Medical Care Commission grants, the Duke Endowment and local bond funding. Citizen support was high as evidenced by the attendance of 2,000 (out of a county population of 16,000) at the groundbreaking, and the outpouring of public monetary gifts to the project.
During the dedication ceremony on February 19, 1956, keys to the completed building were turned over to board chair J.K. Sheek by the three-member Board of County Commissioners, R.P. Martin, J.M. Groce and C.R. Carter, through the county attorney A.T. Grant. The first administrator was Frank Ceruzzi.
Davie County Hospital admitted its first patient on March 1, 1956. At that time, the facility housed 30 beds, most of which were semi-private rather than the then-standard multi-bed wards. Room rates were $12 per day for private and $9 per day for semi-private rooms. The first operating budget totaled $141,000 and capital equipment budget was $6,000.
The 1965 expansion added 29 new beds, a new operating suite and expanded other support areas. The new addition was dedicated on September 12, 1965. With a continued expansion of services, there was widespread public discussion by 1970 about the need for additional physical expansion. During 1973-74, more construction included a new obstetric department, expanded radiology and laboratory space, Intensive Coronary Care Unit and the addition of inpatient beds to bring the total licensed bed capacity to 81.
However, by the 1980s the need for inpatient care waned, largely because Medicare instituted a new method of health care payment to hospitals. This new system pushed all hospitals toward lower inpatient volumes and higher use of outpatient services. By the late 1980s and 1990s, hospital leaders developed strategies to manage the declining revenue while continuing to offer healthcare services vital to the community.

On January 1, 2002, Davie County Health Corporation became the operating entity for Davie County Hospital, and management agreement with the North Carolina Baptist Hospitals was signed. At their February 20, 2007 meeting, the Davie County Commissioners passed control of Davie County Emergency Health Corporation (the Hospital) to the Hospital's Board of Trustees.

In the years that followed, community pride and support for Davie Hospital again swelled as Wake Forest Baptist Health continued to offer world-class medical care at Davie Medical Center - Mocksville while pursuing a strategy to construct a replacement hospital.

On August 19, 2013, Davie Medical Center - Bermuda Run, Medical Plaza 1 opened its doors to provide state-of-the art services for Davie County and surrounding counties. Medical Plaza 2 opened on October 14, 2013 marking an important step in history for the residents of Davie County. Plaza 1 includes physician clinics for Orthopaedics, Ophthalmology, Cardiology and Neurology. Pharmacy and Lab services are also in Plaza 1. Plaza 2 features the new Emergency Department, imaging services, diagnostic cardiology and neurology, two operating rooms, observation beds and the Sleep Center.