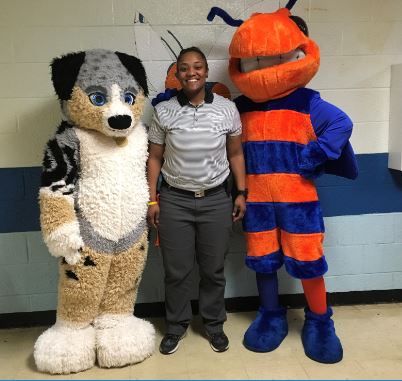 Taping a sprain, replenishing fluids and educating players about the dangers of concussion are just some of the ways that Kianna Anderson is working with student athletes at Lexington Senior High School. Kianna is the high school's certified athletic trainer– a new position made possible through a partnership between Lexington Medical Center and Lexington City Schools to provide full-time athletic training services at the school.
Kianna, an employee of Wake Forest Baptist Health – Lexington Medical Center, has been working on site at Lexington Senior High School since early January. Her role focuses on the prevention, care and rehabilitation of athletic injuries for all sports. She also serves as a liaison between the student athletes, parents, coaches, athletic director and doctors, communicating information about player injuries, limitations, recovery plans and when it is safe to resume play.
"As athletics become more intense and specialized, high schools need allied health professionals who are educated and trained in injury prevention and care," said Christopher Ina, MA, LAT, ATC, Wake Forest Baptist's Athletic Training Coordinator who oversees the program. "Kianna is on the field, at practices and games looking out for the players and making sure they're safe and healthy."
Kianna graduated from Greensboro College with a bachelor's degree in athletic training and is certified by the National Athletic Trainers Association Board of Certification and licensed by the State of North Carolina. She most recently worked as an athletic trainer and teacher at T. Wingate Andrews High School in High Point.
Sports have always been a big part of her life. She played basketball, soccer, softball, volleyball and lacrosse throughout high school and college, with her own college athletic trainer leaving a lasting impression. "I dislocated my shoulder playing basketball, and doubted that I'd ever do a left hand layup again," said Kianna. "Thanks to my athletic trainer's help and encouragement, I was able to return safely to the game that I love and achieve my goal – something I look forward to doing with the Lexington Senior High students."
A major focus of Kianna's job will be helping student athletes prevent and reduce the risk of sports injuries, with some of the most common injuries being ankle sprains, shoulder, elbow and knee injuries, and pulled muscles. She will assess, manage and treat acute injuries when they occur and keep communication open with physicians and the school's athletic staff. She will also lead rehabilitation and physical therapy efforts for students.
Another large part of Kianna's role will involve educating students, parents and teachers about the warning signs, symptoms and management of concussion. She will teach students about general sports health, safety and self-care, from proper hydration, nutrition, exercise and stretching to the importance of getting enough sleep, avoiding heat illness and leading a healthy lifestyle. Kianna said all of these factors contribute to injury prevention.
"I'm excited to join the team and build relationships with the students," said Kianna. "We're already bonding over a shared love of sports. I'm a new face, and they've taken me in. The support I've received from the coaches and athletic director has also been amazing."
"Kianna's an energetic go-getter who is passionate about sports safety and high school athletics," said Chris. "Lexington Medical Center and our school community couldn't be luckier to have her on board."