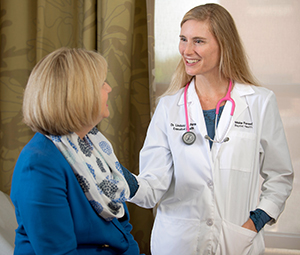 Personal, Customized and Comprehensive Executive Care
Our Executive Physical Exam is designed to provide companies and individuals with a proactive approach to health and wellness. The exam can be tailored to suit the needs of each participant and our providers are concerned with all levels of health: physical, mental and emotional. The comprehensive nature of the exam combined with the extended one-on-one time each patient has with his/her Executive Health physician ensures each individual leaves with a better understanding of their overall health and what they can do to protect and improve it.

The Executive Health Physical is designed with busy professionals in mind. Several components can be completed in advance, and the exam is typically completed in under 4 hours.
The Executive Health Physical Exam Includes
A personalized comprehensive physical exam, review of medical and family history and discussion of test results with a Wake Forest Baptist Health physician who specializes in executive and professional health. For our female patients, a pap smear and breast exam are also included.
Electrocardiogram (EKG): Checks for signs of heart strain or abnormal heart rhythms
Skin cancer screening
Hearing screening with audiogram
Select routine immunizations, if needed
Complete fitness assessment by a specialist from our Weight Management Center


Resting metabolic rate
Body composition analysis
Fitness assessment with customized exercise plan

Nutrition consultation: Review and discussion of food diary (maintaining a food diary for a minimum of one week is recommended)
Laboratory Analysis
The Executive Health physician will order a customized selection of lab tests based on each patient's current health information and history. These lab tests will include several of the following tests:
Cholesterol testing, including sub-particle analysis if needed
Complete blood count (CBC)
Comprehensive metabolic profile
Complete iron profile
Diabetes screening (HbA1c)
Comprehensive electrolytes, kidney and liver function tests
Thyroid function tests
Adrenal function tests
Hormone levels
Blood vitamin levels including Vitamin D, Vitamin B12 & Folate
Prostate specific antigen (PSA), if needed to assess prostate cancer risk
Additional Tests
The Executive Health Physician will also order medically appropriate radiologic tests, based on each patient's individual needs. These tests may include:
CT scan of the coronary arteries
Mammogram/3D Mammogram
Bone density/body composition analysis - (DEXA) scan
Multi-view chest X-ray
After the Exam
Three post-visit nurse health coaching sessions are included with each exam. These sessions provide participants with support as they work to achieve the health and wellness goals established during their exam.

The Executive Health physical is self-pay only. Insurance is not accepted.
For more information or to schedule an exam, please contact us at 336-713-0967 or executivehealth@wakehealth.edu.