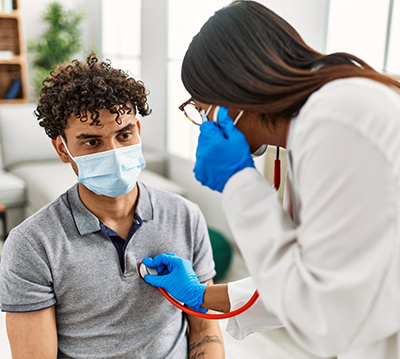 Men, it is time to prioritize your health. Whether you get a physical exam every year or if you've missed one (or two, or three), commit to building positive health habits.
Here are 7 reasons why Dr. Brady Nichols of Atrium Health Wake Forest Baptist Family Medicine says you should schedule your physical today.
Check in on your overall health: Your yearly physical exam not only gives a chance for a provider to look at your body but also your blood work. Checking in on this regularly while you feel well can inform you and your healthcare team how your body is affected if you become ill. Also, it's a great way to trend how our bodies are transitioning through each stage of life.
Be proactive: Your primary care physician might find minor issues that can be corrected. Knowing the current state of our health may provide the incentive to run an extra lap, encourage you to eat just one more vegetable you might be avoiding or have one less sweet. Identifying health concerns now can avoid bigger problems later.
Manage medications: Taking dietary supplements, over the counter or prescribed medications? The pharmacy shelf can be difficult to navigate. Coming in for a checkup and talking about your medicines and vitamins can help your healthcare team avoid cross reactions and minimize side effects. Make sure your body is getting what it needs and avoiding the extras that may be harmful.
It's affordable: Almost all insurance plans cover your yearly physical at 100% without any out-of-pocket expense. Many insurance companies offer additional incentives such as decreased cost of your insurance plan. If a minor problem is discovered now, the cost of managing something simple is less expensive than a major health problem later.
Update vaccinations: Protect yourself from common illnesses with simple, safe vaccines. At your physical your healthcare team will confirm what is due and answer questions on what is recommended.
Get screenings: Are you sexually active? How many partners have you had in the last year and do you know how many partners your partner has had? Men can harbor and spread sexually transmitted illness (STI) for months without feeling any symptoms. Certain populations may benefit from HIV prophylaxis medications. Regular screenings are important for all.
Get safe, comfortable care: Our facilities provide strict practices to keep you safe: offering sufficient space, adhering to personal safety protocols and disinfecting high-touch areas regularly. You come to us to protect your health, and we do everything we can to make you feel protected and comfortable.
Ready to schedule your yearly physical?
Primary care is your first step to good health. At Atrium Health Wake Forest Baptist, we have different primary care options, depending on your needs. Call us 24/7 at 888-716-WAKE (9253) or make an appointment online.