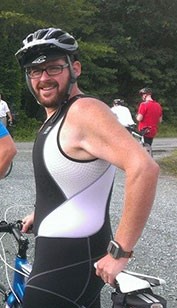 A few years ago, Chris Samia was obese and inactive, mainly due to psoriasis, an autoimmune disease that covered his skin with itchy, scaly sores that cracked and bled. Today, the 30-year-old competes in triathlons, which combine long-distance running, swimming and cycling.
He credits his turnaround to a clinical trial at Wake Forest Baptist, where a new drug eased his symptoms, helping him maintain his workout routine and reduce his weight from 330 to 195 pounds.
"The drug did not create my weight loss, but by stopping the cracking and bleeding skin that accompanied exercise, it gave me the ability to work harder and achieve my fitness goals," Samia explained. "Without this drug trial, who knows what my life would be like now."
Samia's experience illustrates how improving a single health condition can yield far-reaching benefits and underscores the importance of clinical studies that confirm the safety and efficacy of promising new therapies.
"Clinical trial subjects perform an indispensable service to the general public," said Steven R. Feldman, MD, PhD, dermatologist and director of the Center for Dermatology Research. "All new drugs that come to market can do so only because people like Chris have been willing to be part of a clinical trial."
How Dermatology Trials Work
Like other departments and centers that conduct clinical trials at our Medical Center, most dermatology trials are part of multicenter studies with sites across the nation. Local enrollments range from 2 patients up to 40. Unlike some of our well-known studies that track chronic diseases like diabetes or high blood pressure in the same people for decades, dermatology trials rarely exceed 5 years, and many last only a few months.
Like all clinical trials, investigators thoroughly screen applicants to ensure they meet study protocols, which might specify an age range or absence of other health problems. After enrollment, studies require a modest amount of time, typically a monthly visit to the clinic. That suited Samia, who travels abroad as an independent communications consultant and teaches English at Forsyth Tech, in addition to training and competing in triathlons.
"Participating in a research study is completely voluntary," said Adele R. Clark, PA-C, clinical studies director for dermatology. "Our main goal is to keep patients safe. We discuss potential benefits and risks for each subject's situation. Typically, the medications we are evaluating have already been through studies in the laboratory, in animal models and in small groups of healthy patients to identify possible side effects, so we know a lot about how they work."
Samia, whose symptoms began in seventh grade, had tried everything from topical lotions to dietary changes to light box treatments, but this was his first clinical trial. Like many who enroll, he saw an ad for the trial on local television. In September 2011, he joined a five-year study of Apremilast, a twice-a-day pill that the FDA has since approved.
"Because I had a bad reaction to a psoriasis drug that I took during high school, I was really hesitant about trying another one, but something had to change, and I decided the trial was the best option for me," he said.
Many dermatological trials divide patients into control groups, with some getting placebos for the first 3 to 6 months. Samia turned out to be in that category. However, once he started taking the drug, he saw dramatic improvements.
Broad Benefits
"Patients in clinical studies often receive benefits beyond potential relief of the condition being studied," Clark noted. "They can learn more about their health through conversations with staff and doctors, and regular diagnostic tests sometimes uncover other health problems. If people do not get better at the end of the study, we help them arrange for continuing care in a medical setting."
Clark said many study participants are motivated by the opportunity to help others who may be suffering from similar conditions. Samia confirmed that his experience was positive and rewarding.
"I highly encourage patients to investigate clinical trials and participate if they feel it's right for them, especially if it has the potential to improve their life," Samia said. "Because I was able to participate in this drug trial, others with psoriasis may use this drug and get similar results. It's nice to know that I helped make that possible."