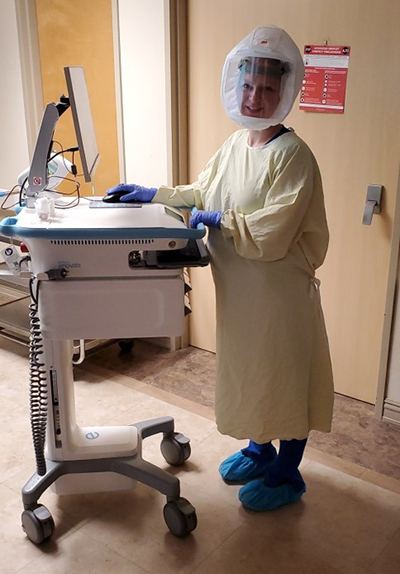 Amy Craft is a registered nurse on the medical unit at Wilkes Medical Center.
She said the hospital has an entire wing for COVID-19 patients. Due to the high stress and exhaustion of constantly wearing personal protective equipment (PPE), nursing assignments are rotated daily. "Working together with other staff at the hospital allows us to reduce the amount of PPE we use and the number of times we must change our gear," she said.
The stress level can be very high at times for Craft and her coworkers, especially when patients do not respond well. "I am very blessed to have supportive colleagues I can talk to, along with great and supportive doctors."
Keeping her family safe continues to be a top priority for Craft. "After my shift ends, I either shower at work or change clothes and shower immediately upon returning home," she said. Her family does not go out a lot, but when they do, they wear masks everywhere they go and try to keep their distance from others. "I have seen the virus firsthand, and it is real," she said. "I taught my children at a very young age that hand washing and hygiene is very important, but I still must remind them to avoid touching their faces. I see so many adults touching their faces without first cleaning their hands. People really need to remain mindful of what they are doing, especially when they are out of their homes."
Craft recalled one relatively young COVID patient she cared for. As the patient was waiting to be transferred to the ICU, "I overheard them on the phone with their spouse, telling them where some bills were that needed to be paid and reminding them of some other things. It never occurred to me that upon transfer to the ICU, this relatively young patient would never make it home again alive. This virus is unlike anything I have seen in my 21 years of being a registered nurse on the medical floor."
Even though the number of patients hospitalized with COVID at Wilkes Medical Center has decreased over the last few weeks, she realizes some people in the community still do not take the pandemic seriously. "It is not political; it's real and it's scary," she said. "Asymptomatic individuals can still spread it to others, potentially harming them, sometimes fatally, even their loved ones."
Craft is always glad to see patients recover and go home. She said, "COVID patients are alone, not being allowed visitors, and many are scared. I'm honored to be able to provide support and comfort to these patients, telling them about my experiences, and helping to calm their fears."
While many in the community are now being vaccinated, Craft wanted to remind people to still wear a mask, keep their distance from others and wash or sanitize their hands often. "If you have any symptoms, or if you have health problems where you can't wear a mask, stay home," she said. "It simply is not worth the risk. You don't know how this virus might affect you or the ones you care about."