Food and Nutrition Services at Atrium Health Wake Forest Baptist Medical Center is introducing several new projects aimed at reducing environmental impacts and supporting local farmers and food programs.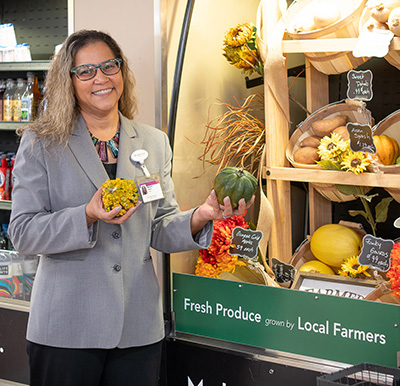 Some of the ways that Food and Nutrition is going green include expanded composting of food and paper waste, offering local produce grown with that compost for sale in the cafeteria, compacting trash to reduce waste going to landfills, switching from plastic bottles to boxed water, and re-introducing washable plates and silverware in the cafeteria.
"As one of the largest places to dine in the area, it's important that we are a leader in sustainable practices," said Melanie Adams, Director of Food and Nutrition Services across the Wake Forest Baptist region. "This is about doing the right things for our environment and using our limited resources responsibly for the sake of future generations.
Introducing Washable Plates and Silverware
Beyond the cafeteria, which serves about 9,100 customers each week, Food and Nutrition Services also feeds around 850 patients three times a day. This is the reason why Melanie hopes to eventually include patient food waste in the program.
While the cafeteria has been using compostable paper products for years, convenience packaging is still used for takeout orders. However, diners can now choose newly purchased washable plates and silverware to further reduce the amount of non-compostable or non-recyclable trash that must be compacted.
Boxed water in two sizes is replacing plastic bottles. The plant-based containers boast renewable sources, reduced weight and a lower carbon footprint. Cafeteria patrons can still bring and refill their own water bottles at the self-serve beverage machines, which is an even more environmentally friendly practice.
Composting Leftover Food and Containers
In the dish room, Food and Nutrition teammates sort leftover food and compostable containers from recyclables and trash destined for the landfill. A vendor picks up bins of compostable material and processes the compost before it goes to farmers in the program.
"At home, you may have a little container for composting next to your kitchen sink," said Gary Gunderson, D.Min., D.Div., Vice President, FaithHealth, Atrium Health Wake Forest Baptist. "However, if you are the largest kitchen in the region, there is a lot more to think through."
Through Gary's local and national connections with groups working to solve the problems of hunger and food insecurity, he was able to connect Melanie with Renew Forsyth, a local group that is working to build community resiliency through regenerative gardening.
Two new compactors in the cafeteria and another at Chick-fil-A reduce the volume of landfill trash by 80-90% before it goes to the dumpster. Using compactors also reduces the number of plastic garbage bags necessary to transport trash.
"In the cafeteria, depending on the season, our Farmer's Market display case has fresh apples, herbs, fruits and vegetables grown by local farmers," Melanie said. "Our compost nourishes that apple you're about to eat. And those farmers provide a portion of their products to local food insecurity programs. It's a win all around."
Hearing Positive Comments
Two months into the program, Melanie is seeing good results with about 12% of the waste stream being diverted from the landfill. "Our goal is to get to 60% within the next year," she said.
Feedback from customers has been positive, Melanie said, with typical comments such as "Wow, this is a great option" and "Glad we are saving our trees."
"We have many regular customers, of course, and they provide feedback to my team almost daily as to what they like or dislike," Melanie noted. "It is usually while we are doing rounds in the cafeteria. It's a great place to get feedback from customers while they are selecting their meals."
Customers will get an opportunity to formally share their opinions at the end of the year, when Food and Nutrition conducts its annual retail survey through an online app. Melanie also plans to set up a table in the cafeteria to help boost survey participation.
Setting Long-Term Goals
Kim Carrison, Associate Vice President, Facilities Administration, pointed out that many of the investments in sustainability are offset by reduced costs associated with dumpster services, which charge by the pound. "Remember that if we didn't compost these materials, they would go into the general trash stream, and we would pay a regular trash hauler to pick them up," she said.
"In making changes like this, success is heavily driven by having someone in the day-to-day operations who is very committed and passionate about them," Kim said.
Melanie started work on the Winston-Salem campus in February 2021 and was promoted to oversee the entire region in June 2022. While all current projects are limited to the Winston-Salem campus so far, some will soon be expanded to other hospitals in the Atrium Health Wake Forest Baptist region.
"We're just at the tip of the iceberg right now," Melanie said. "We have long-term goals that we're working toward, and every phase will bring new awareness to the people who come through our facilities. We want to raise public awareness and educate our customers about how their purchases affect the environment."