On the same December day in 2016 when she celebrated the birth of her ninth grandchild, Patty Jones learned she had advanced non-small cell lung cancer.
"I knew I had to get this cancer behind me because I had another grandchild to watch grow up and graduate from school," said Patty, a Woodlawn, Va., resident, who credits her family, God and the care she received at Atrium Health Wake Forest Baptist's Comprehensive Cancer Center for saving her life.
"God opened all the doors for me to be introduced to the Comprehensive Cancer Center and blessed me with the most knowledgeable and caring doctors who have shared my cancer journey with me," said Patty, who was 57 when an urgent care physician in Galax, Va., wanted to learn more about her persistent cough and ordered a CT scan. That scan showed a mass on her lower right lung restricting her airways.
She was immediately referred to the Comprehensive Cancer Center, and at her first appointment in January 2017, doctors discovered the cancer had spread to her brain, lymph nodes and a rib, which meant her cancer was stage 4. According to the American Cancer Society, the 5-year relative survival rate for non-small cell lung cancer with spread to distant parts of the body is 8%.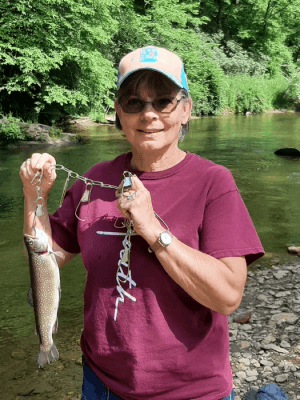 "I remember having a frank discussion with her about the treatment options and goals of care, and quality of life was very important to her," said Dr. Jimmy Ruiz, Patty's medical oncologist and hematologist. "I informed her that this was not a curable cancer."
There were good treatment options for Patty, though, including a relatively new immunotherapy drug, Pembrolizumab, which had been approved for use by the U.S. Food and Drug Administration less than six months earlier. Cancer centers that are designated as comprehensive by the National Cancer Institute offer early access to the latest treatments and therapies.
"Dr. Ruiz explained what immunotherapy was, compared to chemotherapy and radiation, and said he felt like I would be a good candidate for it," Patty said. "He left the room for a short while, came back and said, 'Pembrolizumab has been approved by your insurance provider, and we're going to see if we can get you started on it today.'"
About three weeks later, Dr. Michael Chan, a member of the brain tumor specialty team, removed the tumor using gamma knife radiosurgery, an alternative to traditional brain surgery that pinpoints tiny beams of radiation to destroy diseased tissue without harming healthy tissue. The Comprehensive Cancer Center, which has offered gamma knife radiosurgery since 1999, has one of the most active gamma knife centers in the country, with one of the most experienced gamma knife treatment teams, and is the only cancer center in the region to offer the technology.
Patty received immunotherapy treatments every three weeks for two years, and her lung and rib tumors consistently grew smaller with each successive scan. By 2019, the tumors had been reduced enough that her doctors felt comfortable monitoring her periodically, and Patty rang the bell marking the end of her cancer treatments. Her doctors continue to monitor her every six months with no new treatments planned.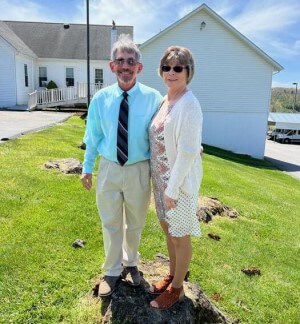 "She is truly a remarkable survivor," Dr. Ruiz said. "Right now, she doesn't have any evidence of disease. She's done really well."
Along her journey, Patty said her care team helped in so many ways. PA Rebecca Kinney worked seamlessly with Dr. Ruiz. Scarlett Hutchens, her certified oncology nurse navigator, got her into a smoking cessation program, assisted with paperwork and helped coordinate multiple appointments on one day. Other members of her team directed her to affordable parking and lodging when she needed to stay overnight in Winston-Salem for treatments.
"Anything they could do to ease the stress on me and my family, they did, and they were always ready to answer any questions I might have," Patty said. "They never left me in the dark."
Dr. Ruiz said he sees that type of patient-centered care as a priority.
"I'm a big believer in making the patient the most important part of the clinic visit," he said. "When you go in the room with that person, they're the VIP, and I think our cancer center does a very good job of that."
For Patty, that state-of-the-art treatment and caring providers at the Comprehensive Cancer Center made all the difference.
"They made me feel so comfortable," Patty said. "They treated me as a person and not a patient. They went above and beyond to do their job and cater to my needs while having my best interests at heart."