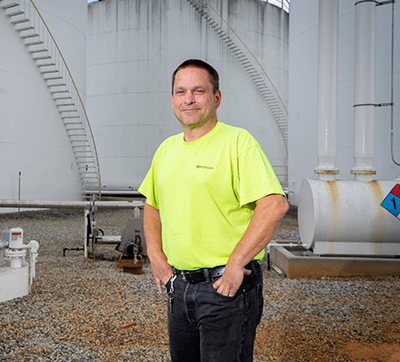 Severe back pain kept Purnell from work and soccer for months. As an operator at the Colonial Pipeline tank farm in Greensboro, constantly climbing and fixing tanks, and an avid soccer player and referee, Purnell needed his pain resolved.
Purnell's colleagues and primary care physician recommended Wake Forest Baptist Health's Orthopaedic & Spine Experts.
Our team did an MRI and found a spine fracture that occurred in his early 20's. This had resulted in spinal instability and caused excessive wear and tear over the years. The instability and shift in alignment caused nerve compression, or a "pinched nerve", which was decompressed and stabilized during surgery.
"Surgery went great! My back pain is completely gone. I went home on Friday and was ready to come back to work Monday morning. I wasn't scared when I found out I needed surgery. We exhausted all conservative options and the way they talked about the surgery made it seem so routine. They are very knowledgeable and had such good bedside manner. I highly recommend them!"
To learn more schedule your appointment, call 336-716-WAKE or visit Orthopaedic-Services.