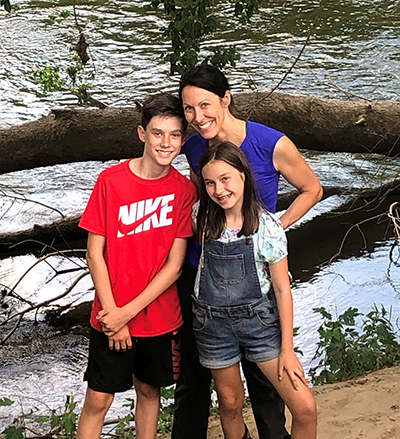 After completing a half-marathon, local kindergarten teacher, Sherry, felt an intense pain and was immediately sent to the ED. Doctors found out she had a very rare cancerous tumor in her thighbone that needed to be removed. Sherry was told she may never be able to run again.
"I've never been an athlete, but running and doing marathons was my way to reduce stress. It had become so important to me and the thought of losing that was frightening. I knew I needed to be active to be happy, but my doctors were worried that at my age, I couldn't support that level of impact after surgery." said Sherry.
Dr. Cynthia Emory, Orthopaedic Oncology surgeon at Atrium Health Wake Forest Baptist performed Sherry's surgery by cutting out the tumor in the bone and replacing it with a donor bone. The surgery went great and Sherry was able to walk and swim with her kids again without pain. After 2 years Sherry was cleared to run her first 3.5 mile run, and plans to do another marathon soon.
"Dr. Emory was so confident but humble. Empathetic, but honest. I've never met anyone like her. Throughout all my appointments she always thanked me for how much work I put in. She worked a miracle and is just one in a billion. Every experience I've had at Wake Forest Baptist over the past 2 years has been amazing. I was always told they had the best surgeons, and now I know they have the best bedside manner too."