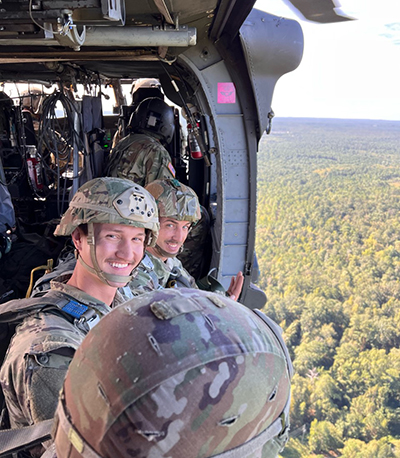 Taylor Michael Green, 24, first dislocated his shoulder in 2013 at high school football practice. The injury also tore his labrum (the soft tissue and cartilage surrounding the shoulder socket) and chipped his glenoid (the socket joint of the shoulder). Over the next six years, Taylor experienced a staggering 14 shoulder dislocations.
"They happened frequently between snowboarding, swimming, football and other activities," he says.
Two failed shoulder surgeries
Taylor underwent two Bankart labrum repair surgeries, one in 2015 and another in 2018, the same year he joined the U.S. Army. He dreamed of a thriving military career, but kept dislocating his shoulder, putting his goals at risk.
The pain didn't bother him and he was able to put his shoulder back in its socket himself, but the mental effects of recurrent injuries took a toll.
"I came to the realization that I didn't have control of my body," says Taylor. "I couldn't do my job and I couldn't protect my friends and family. It affected my quality of life."
Meeting Dr. Waterman
An Army surgeon recommended Taylor meet with Dr. Brian Waterman, an Army veteran and orthopedic surgeon at Atrium Health Wake Forest Baptist.
Dr. Waterman confirmed Taylor had complex anterior shoulder instability and was missing more than 25% of the glenoid bone in his shoulder socket. Fortunately, his rotator cuff and posterior labrum were in good shape.
"We suggested treatment with a Latarjet procedure, which uses a coracoid transfer for anterior bone block augmentation," says Waterman. "This is designed to build back up his existing 'socket' with a bone graft to store bony foundation, as well as to prevent repeated shoulder dislocation."
The Latarjet procedure has an excellent track record, says Waterman, with low rates of repeat dislocation from 0 to 3% in patients with recurrent shoulder instability.
"I had done a lot of research before meeting with Dr. Waterman and knew Latarjet was the right option for me," says Taylor. "And that's what Dr. Waterman recommended."
Undergoing Latarjet shoulder reconstruction
Waterman performed Taylor's surgery in September 2019. Taylor's recovery went smoothly as he focused on taking care of his body and being diligent about physical therapy, with the ultimate goal of furthering his military career.
"While we knew this surgery would restore stability to his shoulder and improve his quality of life, Taylor had bold ambitions to pursue high-demand military function through the Army, and he expressed an interest in pursuing Special Operations once healthy," says Waterman. "We worked hard with his physical therapist and ensured bony healing on a postoperative CT scan before beginning more aggressive activity."
Taylor's progress after surgery
Waterman says Taylor's recovery has been excellent.
"He has done quite well to regain confidence, full range of motion, strength, and his ability to engage in hand-to-hand combat, fire a weapon and jump from airplanes," says Waterman. "He has done remarkably well."
Since his recovery, Taylor has completed a tour in Eastern Europe and a reconnaissance and surveillance leadership course. He passed his board for the E-5 rank and will soon be promoted to Sergeant. Taylor will start Army Ranger School in March and then the Army Sniper Course this summer.
"Because of this surgery, I've been able to thrive in the military, enjoy my life, build my body and go into every day with full confidence that I have the complete backing and support of my own body," says Taylor. "I have many more goals too. I'm always working toward something."
Gratitude for healing and service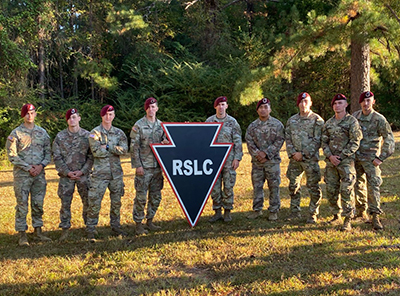 Taylor is grateful for Waterman's expertise.
"I can't explain how grateful I am for this man and what a good job he did," he says. "Being in this line of work wouldn't have been possible without surgery."
As an Army veteran, Waterman was honored to help Taylor heal and progress in his military career.
"I am filled with pride when I see talented young servicemembers like Taylor," says Waterman. "He is of the utmost integrity and has endless potential. His grit and determination certainly define what is best about our men and women in uniform. He represents only 1% of our U.S. population who have voluntarily served in the military, and he has knowingly and willingly put himself in harm's way to protect our safety and freedom. If we in military medicine can be even just a small part of that mission to restore our servicemembers to health and preserve the fighting force, it's a tall honor."
He adds, "While Taylor continues to express his appreciation to us, I would be remiss if I didn't do the same. Thanks to him and all servicemembers for selfless service. They encourage me to bring my best every day and always strive to get better."