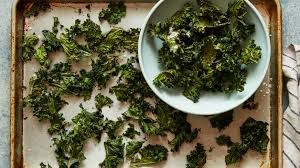 Kale is a member of the cabbage family, and comes in many types and colors – including green or purples or smooth or curly leaves. This recipe works best for curly kale.
Kale can be grown all year round, and is usually very affordable. The stems can be tough, so it's best to strip the leaves away.
Ingredients
1 bunch of curly kale
2 tablespoons olive oil
Salt and pepper to taste
Instructions
Preheat the oven to 350 degrees.
Strip or cut the leaves from the stems on the kale. Tear large leaves in smaller pieces. Place kale in a large bowl of water and wash well.
Drain the kale and dry it well, you may need to use a clean dish towel or paper towel to absorb some of the water.
Add dry kale to a bowl and toss with olive oil, a couple pinches of salt, and pinch of pepper.
Divide the kale onto a baking sheet and be sure to spread evenly or it will not get crisp in the oven. You may need another baking sheet, or to work in batches.
Roast for 15 minutes, or until kale is crisp.
Adapted from foodnetwork.com.