What is Vertical Sleeve Gastrectomy?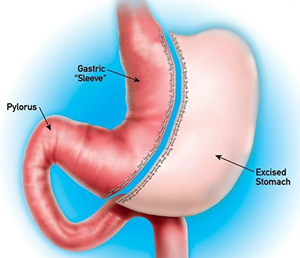 During vertical sleeve gastrectomy (also referred to as gastric sleeve surgery), the surgeon removes about 3/4 of the stomach. As a result, patients lose weight because they cannot eat as much food. The procedure does not require open surgery; it can be performed laparoscopically through small incisions in the abdomen. Some people may eventually need a second weight-loss surgery.
This procedure may be recommended if you have:
A body mass index (BMI) of 40 or more. Someone with a BMI of 40 or more is at least 100 pounds (45 kilograms) over their recommended weight. A normal BMI is between 18.5 and 25.
A BMI of 35 or more and a serious medical condition that might improve with weight loss. Some of these conditions are obstructive sleep apnea, type 2 diabetes, and heart disease.
How Does Vertical Sleeve Gastrectomy Work?
Vertical sleeve gastrectomy is not a quick fix for obesity. It will greatly change your lifestyle. The new, smaller stomach is about the size of a banana. It limits the amount of food you can eat by making you feel full after eating small amounts of food.
What Are the Advantages of a Gastric Sleeve?
Average percent excess weight loss is 50-60%
Lower risk of mineral or vitamin deficiencies
No risk of internal hernias
It is safer procedure than the Roux-en-Y or the Duodenal Switch
What Are the Disadvantages?
Not reversible
Lower weight loss than Roux-en-Y or Duodenal Switch.
Can cause increased reflux/heartburn (15%) and food intolerances.
Risk of weight regain about 25%
Risks of Vertical Sleeve Gastrectomy
Risks for vertical sleeve gastrectomy are:
Gastritis (inflamed stomach lining), heartburn or stomach ulcers
Injury to your stomach, intestines or other organs during surgery
Leaking from the line where parts of the stomach have been stapled together
Poor nutrition, although much less than with gastric bypass surgery
Scarring inside your belly that could lead to a blockage in your bowel in the future
Vomiting from eating more than your stomach pouch can hold