Laryngeal (voice box) surgeries for certain conditions need to be performed in the operating room, but some lesions may be treated with the patient awake in the office setting. Our laryngologists at the Voice and Swallowing Disorders Center are able to offer in-office laser treatments. There are several advantages of performing procedures in the office versus the operating room including decreased time and cost of the procedure, patient convenience and comfort, and the ability to avoid general anesthesia.

Some lesions that are amenable to treatment in the office are laryngeal papillomatosis, vascular lesions including prominent blood vessels, vocal fold leukoplakia (white patches on the vocal folds)/dysplasia, benign vocal fold lesions, and vocal fold process granulomas. Not all patients with these diagnoses will be candidates for treatment in the office. The laryngologist will evaluate each patient on a case by case basis to develop an individualized treatment plan.
Contraindications for Vocal Fold Laser Treatment
Laser procedures performed in the office are generally a safe option for many patients. Some patients with certain medical problems such as heart or lung problems may not be able to undergo awake procedures in the office and will be scheduled for their procedure in the operating room where extensive vital sign monitoring can occur.

All patients will undergo a pre-procedure vital sign screen on the day of the procedure. Patients with a history of an allergic reaction to lidocaine or similar medications are not candidates for in-office procedures as they are required for successful completion and tolerance. Also, patients that have poor tolerance of laryngeal exams due to discomfort, anxiety, or a strong gag reflex are usually not good candidates for awake in-office laser procedures.
Vocal Fold Laser Treatment Pre-Procedure Considerations
Prior to your procedure, you will typically not be asked to fast, but it is recommended that you avoid a large meal in the 2-hour period prior to your procedure. You can drive yourself to and from the office.
Vocal Fold Laser Treatment Procedure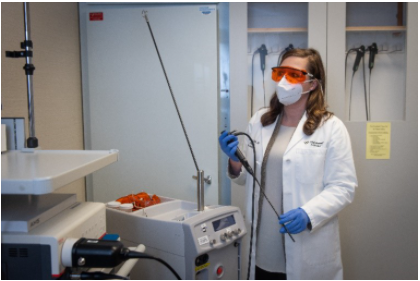 You will be seated in an examination chair in our procedure room at the Voice and Swallowing Disorders Center and your nose will be sprayed with a decongestant and/or a local, topical anesthetic. The nose and throat areas are numbed with medication that is sprayed into the nose or mouth, nebulized into the mouth like an asthma medication, or dripped onto the throat with the scope used during the procedure. A flexible camera scope is passed into the nose to bring the larynx into view. It is normal to cough or gag during this part of the procedure. As your throat become numb, you may have the sensation that your throat is swollen and it may feel difficult to swallow. These sensations are an absolutely normal phenomenon and will soon subside as the anesthetic begins to wears off after the procedure.

You will be given special laser protective glasses or goggles to wear during the procedure. Once your throat is numb, the laser fiber will be passed through the laryngoscope, which will be gently guided through one side of your nose then directed towards the lesion in your larynx (voice box).
Your laryngologist will be in full control of the laser fiber that will be placed above the area(s) to be treated. Throughout the procedure, you will likely be asked to breathe comfortably, but your doctor may ask you to perform tasks such as sniffing or turning your head to one side to better see the lesion(s) that are to be treated. Normally, patients will notice a "smoky" aroma throughout the treatment. If you experience pain, let your doctor know immediately. Typically, patients experience very minimal to no discomfort. Treatment will typically last about 10-15 minutes. Once the laser treatment is complete, the laser will be turned off and the scope will be gently be removed through your nose.
Vocal Fold Laser Treatment Post-Procedure Guidelines
Following the procedure, you will be NPO (no eating or drinking) for 1-2 hours until the local anesthetic wears off. This will prevent any food or liquid from going "down the wrong way" into your lungs while the numbing medication is wearing off. You may be asked to rest your voice for 1-7 days following your procedure as determined by your laryngologist. If you experience a mild sore throat once the numbing medication wears off, you may take an over the counter pain medication such as acetaminophen or ibuprofen. A follow up appointment will be scheduled. At that visit, a laryngoscopy will be performed to evaluate your treatment response.