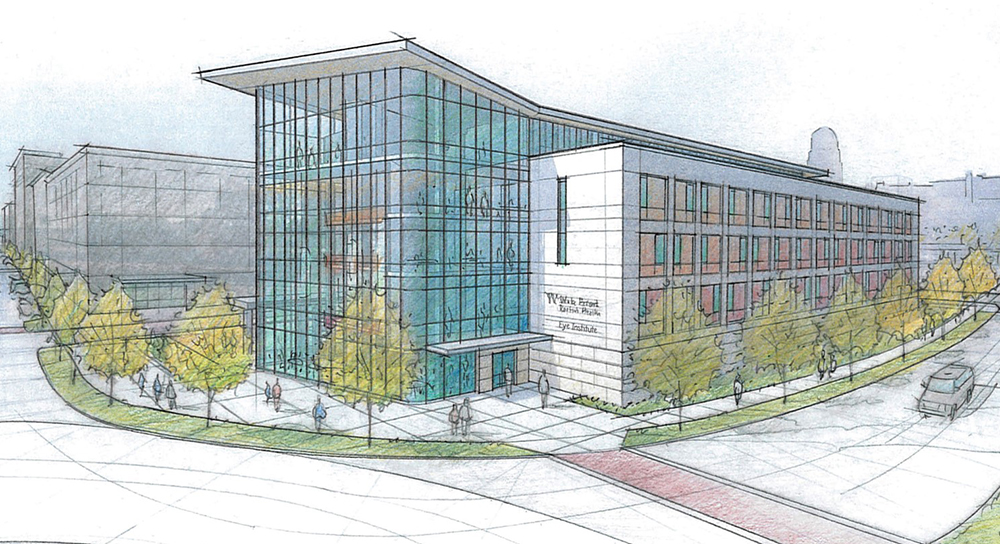 Architectural rendering of proposed Wake Forest Baptist Health Eye Institute
The Wake Forest Baptist Health Eye Center, a multi-specialty ophthalmology practice providing comprehensive care for patients throughout the Piedmont Triad, western North Carolina and surrounding regions, has outgrown its current space. Faculty and staff serve more than 75,000 patient visits a year in a facility designed to accommodate approximately 35,000 patient visits a year.
Our goal is to establish a new world-class clinical and educational Eye Institute for our region. In this state-of-the-art facility, faculty and staff will have the space necessary to treat an ever-increasing patient base as the incidence of vision-threatening eye disease continues to grow:
It is estimated that macular degeneration will affect more than 30 million people by 2020, roughly 10 percent of the population—a number that will certainly continue to rise.
As our population ages, more people will be affected by other age-related eye diseases, such as cataracts and glaucoma.
Diabetes has reached epidemic proportions in the United States, and diabetic blindness continues to rise.
The new Eye Institute is a bold and important step in serving our community and widening the array of services that we are able to offer to those needing expert eye care in our region. Join us in this important endeavor.