Robert Jones, PhD, speaks softly, in the gentle Southern accent of his native Scotland County, North Carolina. Behind that quiet voice, though, lies a powerful life purpose.
Jones is director of the Downtown Health Plaza (DHP), a center that serves the underinsured and uninsured in Winston-Salem. Beyond his nearly 12 years at DHP, Jones has spent four decades fighting for people who often don't have or can't access proper health care.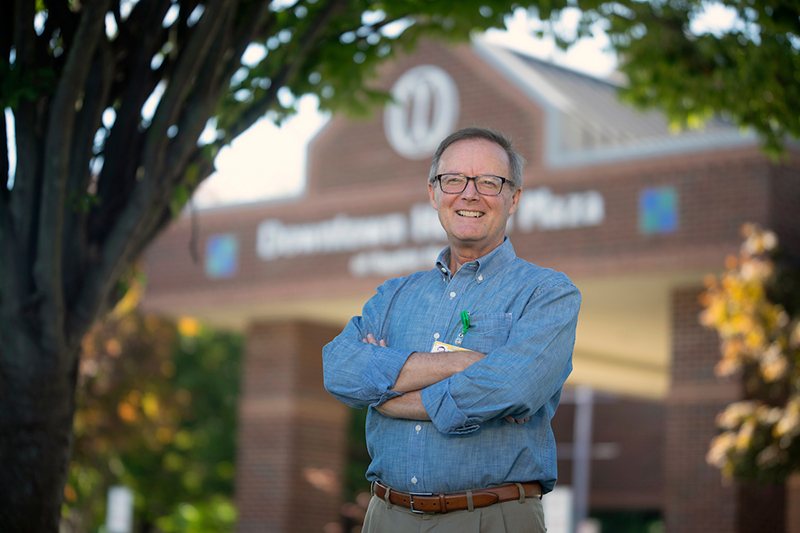 "Robert is a very unassuming individual," says Karen Gerancher, MD, residency program director of Obstetrics and Gynecology at Wake Forest Baptist Health, which operates the DHP. "He does not walk around saying, 'Look at what I've done.'
"You obtain knowledge of what he's done by experiencing it. All of a sudden one day, there's access to something for our patients that has not been here before. Well, Robert wove a new partnership."
Jones has guided the DHP since 2007. Under Jones' leadership, the DHP has enacted many innovative programs, including:
Centering Pregnancy, which provides prenatal education and care to expectant moms and encourages breastfeeding as a way to reduce postpartum issues for mother and child.
The introduction of a behavioral health specialist in many DHP clinics so that patients with anxiety, depression or other mental health issues can be seen by a professional at the same time they have their medical appointment.
A community garden that has vastly grown over the past 10 years and offers free fresh vegetables to patients and their families.
Free or reduced-cost transportation to the DHP through a variety of sources for any patient who needs a ride.
Jones says one of the more difficult parts of his job is persuading financial administrators of the hidden value behind the emphasis of nearly every program at DHP, which is preventive care.
He is most successful when administrators who might not be aware of the challenges facing the underserved population take the time to visit—seeing how patients are treated by the entire staff—and realize that if they did not find appropriate, respectful care here, they would postpone care until it became a painful and expensive emergency. "The vast majority of our neighbors can get what they need here and go on with their lives," he says.
Jones considers his work to be focused on faith and spirituality.
"We can say that we prevent some more serious problems," he says. "That's where we connect with the people we serve—at the heart and spirit."