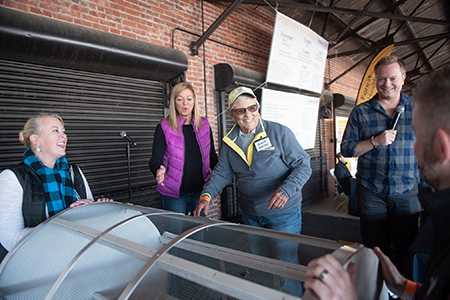 Sportsmen's Saturday is a premier community fundraising event for outdoor enthusiasts hosted by the Wake Forest Baptist Health – Lexington Medical Center Foundation and Honorary Chairman Richard Childress. The 10th anniversary of this event was held on November 2 at the Lexington Historic Southern Railway Freight Depot. Check back early in 2020 for the next Sportsmen's Saturday Event!

"I'm pleased to announce that all proceeds from this event will benefit the new surgical center that is being built," said Bill James, president of Wake Forest Baptist Health – Lexington Medical Center. "This event is always so much fun, and it's a great way to help support our friends and neighbors right here in our own community."

The event featured over 20 prizes totaling more than $110,000, with the grand prize being a 2019 Chevrolet Silverado 4x4 truck. There was also cash prizes and a live auction where bidders could win Carolina Panthers tickets, a steak dinner cooked at their home by On-Time Catering or a BBQ dinner by Lexington BBQ.

The $100 raffle ticket cost included lunch, beverages and entertainment.
2019 Prize Winners
Joyner Edmundson - $5000 Early Bird
Mark Young - $2000 Early Bird
Landon Bisher - $1000 Early Bird
Marie Palmer - $1000 Early Bird
Martin Beale - $1000 Early Bird
Carol Stutts - Sea Doo Spark & Trailer
Ronald Piper - Remington 870 Pump Syntnetic 20 Gauge
Christy Hartley - $500 cash
Fritz Miller - 12 Gun Safe
Thomas Childrey - $1000 cash
Louann Barker - Ruger American Ranch Rifle 300 Black Out
Dwayne Chapman - Field & Stream Kayak Package
Tony Koontz - $500 cash
William Ceroe - Henry Arms Golden Boy Rifle 22 Lever
Barbara Weaver - Paddle Board Package
Heather Scott - 2020 Avalon Pontoon, Engine & Trailer
Robert Hunt - 2019 Kubota RTV 500
Doug Worley - Big Green Egg Grill Package
Nick Lovelace - Ruger American 308 Compact
Jeff Griffith - $500 cash
Pete Davis - Field & Stream Scout Canoe Package
Everett Tate - Glock G-43 9MM Automatic
Roy Berrier - $1000 Cash
Kina Motsinger - 2019 Harley Davidson Street Bob
Jerry Aaron - $500 cash
Vickie Johnson - 12 Gauge Benelli Sawyer Black Shotgun
Ian Kryer - 2019 Honda TRX 420
Rodney Clark - 2019 Chevrolet Silverado 4x4 Extended Cab
Lisa Veach - 50-50 Raffle