A venous thromboembolism, or VTE, occurs when a blood clot forms in the veins. Blood clots can develop in the leg veins (called a deep vein thrombosis), dislodge and travel to the lungs (called a pulmonary embolism). VTE can be fatal and can occasionally travel to the brain. Patients who are immobile, such as hospitalized patients, are especially at high risk. Preventive therapies, such as blood thinners and compression stockings, can reduce the chance of VTE from developing.
The graphs below show Lexington Medical Center's performance in following best practices (evidence-based processes of care) and achieving the best results to prevent and treat blood clots in patients. The charts also show how often patients had blood clots that were preventable.
A column with N/A indicates one of the following: we did not have enough eligible patients to report on that measure; CMS held the data for one or more quarters; results were unavailable for the reporting period; no cases met the criteria for the measure; or results could not be calculated for the reporting period.
The reports on our site include information from
Hospital Compare
as well as our most current data averaged over the past year.
Blood Clot Prevention and Treatment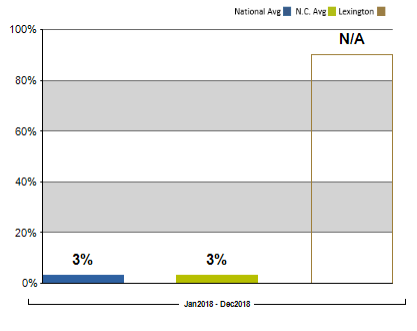 Hospital patients have an increased risk of developing venous thromboembolism (VTE), or blood clots in their veins, because they are often in bed for long periods of time. Blood clots can be dangerous, breaking loose and traveling to other parts of the body, like the lungs or brain. Hospitals can help prevent blood clots by assessing at-risk patients and giving preventive treatments like compression stockings, blood thinners and other medicines. This chart shows the percent of patients who developed a blood clot while in the hospital and did not get treatment that could have prevented it. Lower percentages are better. A column with N/A indicates that we did not have enough eligible patients to report on this measure.