Diseases can often be prevented through immunizations (vaccines). The Centers for Medicare & Medicaid Services reports that approximately 50,000 adults die each year from vaccine-preventable diseases in the United States, and pneumonia and influenza (the flu) are the fifth leading cause of death in older adults. It is critical for hospitals to provide patients with preventive services, like vaccines, to protect against these diseases.
The graphs below show Lexington Medical Center's performance in following best practices (evidence-based processes of care) and providing preventative vaccines to patients.
A column with N/A indicates one of the following: we did not have enough eligible patients to report on that measure; CMS held the data for one or more quarters; results were unavailable for the reporting period; no cases met the criteria for the measure; or results could not be calculated for the reporting period.
The reports on our site include information from
Hospital Compare
as well as our most current data averaged over the past year. The pneumococcal immunization measure has been suspended from public reporting since January 1, 2014.
Patients Received Flu Vaccine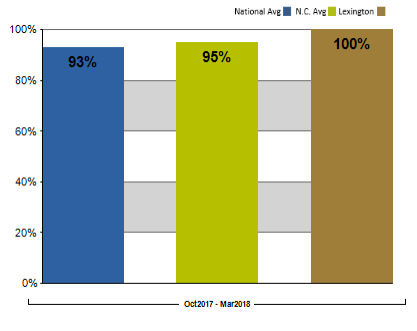 Influenza, or the flu, is a respiratory illness that infects the nose, throat and lungs. It is highly contagious and ranges in severity from person to person. Common symptoms include fever, aches, cough, sore throat and fatigue, or tiredness. According to the Centers for Medicare & Medicaid Services, the flu and its complications cause more than 200,000 hospitalizations each year and about 36,000 deaths in the U.S. Getting a flu shot each year, during the fall, is the best way to prevent the flu. This chart shows the percent of patients who were assessed and received a flu vaccine. Higher percentages are better.