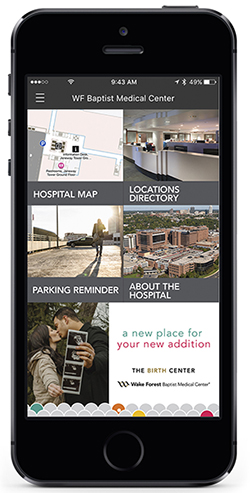 WakeHealth-Wayfinder, a new mobile app, promises to make visits to our facilities easier for patients, families and visitors by providing maps and turn-by-turn directions.
Read the news release
.
The app is available as a free download for both Apple and Android devices. Currently, it provides "blue dot," turn-by-turn navigation in the following locations:
Wake Forest Baptist Medical Center
Medical Plaza – Miller
Davie Medical Center
Lexington Medical Center
* Additional locations will be added in the future.
If outside of one of these locations, the app will ask if the user wants to switch to an external navigation application (i.e., Google Maps or Apple Maps).
Download the app now: