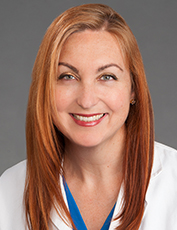 Andrea Fernandez, MD, FACOG is the Regional Chief Medical Officer (CMO) for Atrium Health Wake Forest Baptist. She also serves as the Chief Quality, Safety and Patient Experience Officer.
As CMO, Fernandez has responsibility for our hospital and ambulatory CMOs, credentialing and medical staff services, and Infection Prevention and Health System Epidemiology. To align regional organizational management with the larger Atrium Health enterprise, she also provides co-oversight of Environmental Health & Safety and Emergency Management & Response, as well as Clinical Compliance.
Fernandez earned her bachelor's degree from Georgetown University and master's degree from Boston University. She completed her medical degree and residency in Obstetrics and Gynecology from Medical College of Virginia (now Virginia Commonwealth University). She joined the faculty at Wake Forest Baptist in 2005 and was named Associate CMO in 2010 before assuming the role of Chief Quality, Safety and Experience Officer in 2018. Fernandez serves in leadership roles on numerous boards and organizations, including serving as a Board Member and Chair of the Quality Committee of Cornerstone Health Enablement Strategic Solutions (CHESS). Most recently, she co-led our COVID-19 response and will continue to lead in this area.