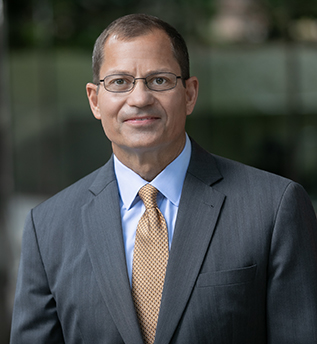 Mick Fisher is Senior Vice President and Chief Human Resources Officer (CHRO) of the Wake Forest Baptist Health system. As CHRO, Fisher is responsible for leading the integration and alignment of the regional Human Resources function with Atrium Enterprise Human Resources. He also leads Enterprise Total Rewards, including benefits, compensation, retirement and workers' compensation, to ensure strategies are progressive, competitive, equitable and cost-effective.
Prior to joining Wake Forest Baptist in 2020, Fisher joined Atrium Health in 2009 as Assistant Vice President Compensation & Benefits. In 2013 he was promoted to Vice President of Total Rewards and HR Operations and in 2016 he was promoted to Senior Vice President of Workforce Operations. Fisher restructured the Total Rewards program to attract, motivate, retain and engage teammates. The Shared Services team launched in 2019 to consolidate Human Resources administrative activities and provide one point of access for teammates and leaders with the creation of the HR Service Center. Fisher also oversaw Teammate Health and Safety, a critical strategic team and service during the COVID-19 pandemic. Teammate Health quickly opened a call center, developed an online screening process for teammates and performs contact tracing after a teammate tests positive. Fisher also led Workers' Compensation, Data Management, Leave of Absence and HRIS as part of the Workforce Operations team.
Prior to joining Atrium Health, Fisher worked at Belk Inc., for 24 years. He held a variety of HR leadership positions, including Vice President of Total Rewards, Vice President of Learning and Organizational Development, Division Human Resources Manager, and Manager of Workforce Planning, Labor Management and Employee Relations.
Fisher holds a bachelor's degree in Industrial-Organizational Psychology from Francis Marion University and a master's degree of Human Resource Management from Appalachian State University.
Currently, Fisher serves on the Lexington Medical Center Board of Directors.