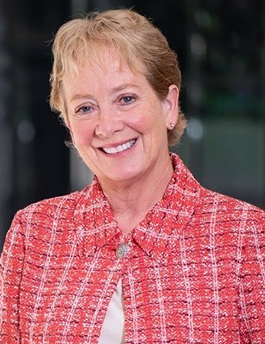 Julie A. Freischlag, MD, FACS, FRCSEd(Hon), DFSVS, is the chief executive officer of Atrium Health Wake Forest Baptist, dean of Wake Forest University School of Medicine, chief academic officer of Atrium Health and executive vice president for health affairs, Wake Forest University. Consistently ranked among the nation's top medical centers, Wake Forest Baptist includes a growing, multi-hospital health system and physician network, the state-of-the-art and highly competitive Wake Forest School of Medicine, and the school's technology transfer and commercialization arm, Wake Forest Innovations.
As CEO and dean, she has the overall responsibility for the health system's clinical, academic and innovation enterprises and its annual operating budget of $3 billion. Previously, Freischlag was vice chancellor for Human Health Sciences and dean of the School of Medicine at UC Davis.
Freischlag has helped to drive change in academic medicine with a deep commitment to diversity and inclusion. For more than 15 years, she has led education and training programs at top medical schools in her role as professor and chair of surgery and vascular surgery departments. Freischlag also has more than 30 years of experience leading patient-care services as chief of surgery or vascular surgery at nationally ranked hospitals. She served as professor, chair of the surgery department and surgeon-in-chief at Johns Hopkins Medical Institutions. She led initiatives to expand research, add specialty clinical services, improve patient-centered care and patient safety, redesign the surgical training program and enhance academic career paths for faculty.
Her national leadership includes serving as a former governor and secretary of the Board of Governors and a regent and past chair of the Board of Regents of the American College of Surgeons. She is the past president of the Society for Vascular Surgery and the Society for Vascular Surgery Foundation, and past president of the Association of VA Surgeons and the Society of Surgical Chairs. Freischlag was the editor of JAMA Surgery for ten years (2005-2014) and is currently a member of the JAMA Oversight Committee and the editorial boards of the Annals of Vascular Surgery, Journal of the American College of Surgeons, British Journal of Surgery, and the Journal of the American Medical Association.
She has published more than 300 manuscripts, abstracts and book chapters, primarily addressing the treatment of abdominal aortic aneurysms, carotid artery disease and peripheral vascular disease utilizing outcome data and clinical trials; additionally, she has published on burnout and work-life balance.
Freischlag is an internationally recognized expert in the treatment of thoracic outlet syndrome which can require a specialized surgical procedure. She continues to evaluate and treat thoracic outlet syndrome patients and evaluates their results in a registry. Freischlag has received numerous teaching awards, an achievement award from the Department of Veterans Affairs, and was elected to the National Academy of Medicine in 2015.
She mentors students, residents and young faculty and is a frequent speaker on topics ranging from her expertise in vascular diseases, teamwork and patient safety, leadership and work-life balance to women succeeding in health professions. Freischlag has dedicated her career to serving as a role model for her students, a respected colleague across health professions, a strong community leader and a national voice for improving health and health care.
Currently, Freischlag is President of the American College of Surgeons and also serves on the Board of Directors of the Association for American Medical Colleges, National Institute of Health Clinical Center Research Hospital Board, Aga Khan University Board of Trustees, University of Pittsburgh School of Medicine Advisory Board, the University of Illinois Health Advisory Board, and the American Hospital Association Changing Workforce Task Force.