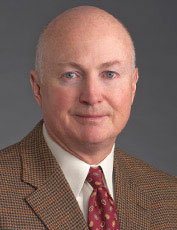 Russell M. Howerton began his administrative career in 2004 as Vice Chief Medical Officer (CMO) for Wake Forest Baptist Medical Center. He was named Chief Medical Officer in November 2010 and then served as System Chief Medical Officer for the Wake Forest Baptist Health system from 2017-2021. After Wake Forest Baptist integrated with Atrium Health, Howerton transitioned his CMO responsibilities to a mentee, who now serves as Regional CMO for Atrium Health Wake Forest Baptist, while continuing to lead the financial and operational aspects of Graduate Medical Education activities for the region.
In 2014, Howerton assumed the additional executive role of Vice President, Clinical Operations, advancing to Senior Vice President in 2017. In this role, he held direct operational responsibility for several service lines and business units, including Risk Management, Care Coordination, Respiratory Therapy, Rehab Therapy, Transitional and Supportive Care and Patient Experience. He currently leads the Respiratory, Nephrology, Infectious Disease, Rheumatology and Transplant service lines and oversees Wake Forest Baptist's Outpatient Dialysis business, the eighth largest in the nation.
In 2017, Howerton also assumed executive responsibility for a 450-provider multispecialty medical group acquired by the organization and led the team that implemented a $20-million turnaround for the group. He then helped integrate other acquired medical groups into what became the Wake Forest Health Network and was named President of the Wake Forest Health Network in 2020.
Howerton, a professor of surgery (surgical oncology) has continued his practice. In addition, he has served in leadership and Board roles with multiple organizations. Since 2014, he has served as Chairman of the Board of Managers of the clinically integrated network (CIN) Cornerstone Health Enablement Strategic Solutions (CHESS). Since 2016, he has served on the Board of Governors of the Patient Centered Outcomes Research Institute (PCORI).
Howerton earned his bachelor's degree with honors from Johns Hopkins University and his medical degree from Vanderbilt University School of Medicine. He completed a fellowship in surgical endoscopy/laparoscopy at the Mt. Sinai Medical Center in Cleveland, Ohio. He served as senior registrar in the Hepatobiliary Surgical Unit of Hammersmith Hospital at the Royal Postgraduate Medical School of the University of London.
He and his wife, Pam, are the parents of four daughters and have four grandchildren.