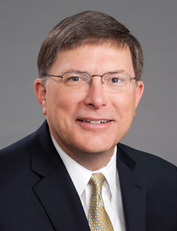 A seasoned health care executive with over 30 years of experience leading high performing hospitals and health systems, James is regarded as one of the top community hospital executives in the mid-Atlantic region. He assumed the role of president at Wake Forest Baptist Health Lexington Medical Center in April 2014.
Prior to joining Lexington Medical Center, James served as president and CEO of Northern Hospital of Surry County in Mount Airy, a position he held since 1995. He has spent his career in community hospital management at numerous hospitals in Virginia, Alabama and North Carolina, ranging in size from 94 beds to over 400 beds.
He completed undergraduate studies in biology at the University of Virginia and obtained a Master's Degree in Health Administration from Virginia Commonwealth University/Medical College of Virginia. He is a Fellow of the American College of Healthcare Executives. On two separate occasions, he has completed terms of service on the North Carolina Healthcare Association's Board of Trustees.
As president, James leads all aspects of planning, critical operations and services at Lexington Medical Center to include the delivery of high quality, patient-and-family centered care, sound fiscal operation of the hospital and outpatient facilities, and compliance with regulatory agencies and accrediting bodies. Additionally, he collaborates with clinical leaders, executives and faculty at Wake Forest Baptist Medical Center to ensure successful operation of local inpatient and outpatient services.
James has a strong track record of community leadership and involvement. He currently serves on the Board of Directors of the Davidson Medical Ministries Clinic and is a member of the Lexington Kiwanis Club.