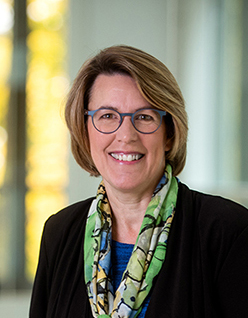 Lisa Marshall is the Chief Philanthropy Officer and Vice President of the Office of Philanthropy and Alumni Relations for Wake Forest Baptist Health. As Chief Philanthropy Officer, she oversees the strategic effort to engage donors and alumni and raise philanthropic support for the clinical, educational and research missions across all units of the health system including the Wake Forest School of Medicine.
Marshall was recruited to Wake Forest Baptist in 2011 from Case Western Reserve University where she served as Associate Vice President for Strategic Gifts and Foundation Relations and Vice Dean for Development, Communications and Administration at the Case Western Reserve School of Medicine.
A graduate of Michigan State University with a BS in Economics, Marshall began her career in the banking industry in 1983. She worked for National City Corporation, a national banking company head quartered in Cleveland, Ohio. With National City for twenty years, Lisa advanced to fulfill many leadership roles in retail banking, product management, and technology management, as well as significant volunteer leadership roles with the nonprofit sector. Her experience leading teams, managing client relationships and engagement with non-profit organizations served her well as she transitioned to the field of philanthropy when she chose to leave banking and join Case Western Reserve University in 2003.
Outside of work, Marshall is committed to organizations impacting the community. She has served on the board of Second Harvest Food Bank and the Board of Directors of Allegacy Federal Credit Union. She is a member of the Association for Healthcare Philanthropy and the Association of Fundraising Professionals. She has presented on various philanthropy topics at the Association for American Medical Colleges Group on Institutional Advancement annual conference.