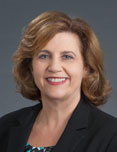 Alisa Starbuck, DNP, APRN, NNP-BC, NEA-BC completed her doctorate of nursing practice at East Carolina University, earned a master of science in nursing from the University of North Carolina at Greensboro, where she also received her BSN. She completed a neonatal nurse practitioner certificate from Georgetown University.
Starbuck joined Wake Forest Baptist Health in 1986 as a staff nurse in the Neonatal Intensive Care Unit. Since then, she has served in numerous roles including transport team nurse, nurse educator, neonatal nurse practitioner and practitioner coordinator, manager of professional practice and director of pediatric critical care within Brenner Children's Hospital.
In 2014, she transitioned to serve as director of advanced practice nursing, quality, research, and magnet. She led the nursing division to a successful fourth magnet designation in 2015.
Prior to her current position, she served as the chief nursing officer for the Winston-Salem campus. Starbuck has also overseen numerous successful clinical program site visits including the inaugural verification of the Pediatric Trauma Center, which marked the first program in the state verified by the American College of Surgeons.
As the vice president, Women's and Children's Health Services and executive director of Brenner Children's Hospital, she is responsible for strategies, facilities, operations and quality of care for all women's and children's related patient care services at Wake Forest Baptist Medical Center, affiliates and outreach sites.
Her responsibilities include developing and implementing a plan to attract key talent, including physicians, advanced practice providers and nursing to meet the workforce needs for clinical services. She is also responsible for organizing the clinical services into well-defined multidisciplinary care units focused around major areas of care and leading the institutional planning for development of new women's and children's care sites. Starbuck also works with affiliates and partners to optimize population health and move toward value-based care.
She is board certified as a neonatal nurse practitioner from the National Certification Corporation and as a nurse executive advanced from the American Nurses Credentialing Center.