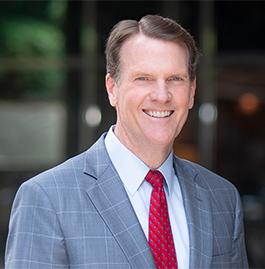 J. McLain Wallace, Jr. is senior vice president and general counsel of Wake Forest Baptist Medical Center.
McLain earned his bachelor's degree in economics from Wake Forest University and his juris doctorate from the Wake Forest University School of Law.
McLain was admitted to the North Carolina Bar in 1988, clerked for the Honorable Gerold Arnold, North Carolina Court of Appeals and was in private practice for 16 years, specializing in health care law.
He joined the North Carolina Baptist Hospital Legal Department as General Counsel in 2005 and became the Medical Center General Counsel in 2010.
Areas of Practice Include:
Board Matters
Clinical Conflict of Interest
Clinical Operations (and Outreach)

Billing
Medicare, Medicaid
Physician Contracting

Corporate/Business Organizations
Executive Compensation
Finance
Fraud and Abuse
Liability Release
Managed Care
Medical Staff
Risk and Insurance Management
Tax Exemption