Daisy Valdovinos, a patient navigator at Wake Forest Baptist Health -Downtown Health Plaza (DHP), sees an average of 60 patients each week. With that many patients, it's easy to imagine those visits becoming rushed and impersonal. And at an average clinic — especially one that serves some of the area's most at-risk families — that might be true. But DHP has never been average.
Since day one, almost 20 years ago, the mission of DHP has been to provide quality and compassionate care through the services of doctors and other health care providers who believe in what they call 'total health.' In a nutshell, total health is about giving patients the tools and support they need to take ownership of their own well-being to attain optimal health.
As one of two patient navigators at DHP, Daisy is there to assist patients as they steer through the often-daunting world of medical care. She helps solve the frustrating insurance, pharmacy and transportation issues that so many DHP patients face — so they can get the care they need, fill and take their required medications, and even make it to scheduled appointments.
Last fall, when Daisy was introduced to patient Sally Jones (name changed to protect privacy), she believed she was just arranging transportation. Ms. Jones had come into the clinic for a regular appointment but had no way to get home. She was simply looking for a one-dollar bus pass, something Daisy could easily get her hands on. Daisy got the pass — plus a few extras to make sure Ms. Jones could come back if needed — and then asked, "Is there anything else I can help you with?" And that's where this story begins.
"As I was talking to Ms. Jones, it became obvious she was facing more serious issues than transportation. We started chatting and, as she became more comfortable, I learned there were some real challenges she was struggling with. Challenges that could ultimately impact her overall health," said Daisy. "Her roommate had moved out abruptly, and she couldn't afford the rent alone. She had an outstanding water bill she couldn't pay and still buy food. Her apartment was on the second story, with no elevator, and it was very difficult on her knees. There were bedbugs in the apartment. It was a huge list, and I think Ms. Jones was so overwhelmed she didn't even know where to start."
It turns out that's a common problem with DHP patients. According to Robert Jones, PhD, the clinic's director, many of the patients who come in for care are facing similar troubles and are unsure what to do. "This stress — the feeling of never having any control over your own situation — we've learned that it really impacts the health of our patients and our community. For years, there was a dichotomy between physical health and emotional health," said Robert. "But today, we know there's a direct correlation. So, we've shifted from treating just the physical symptoms to treating the entire person."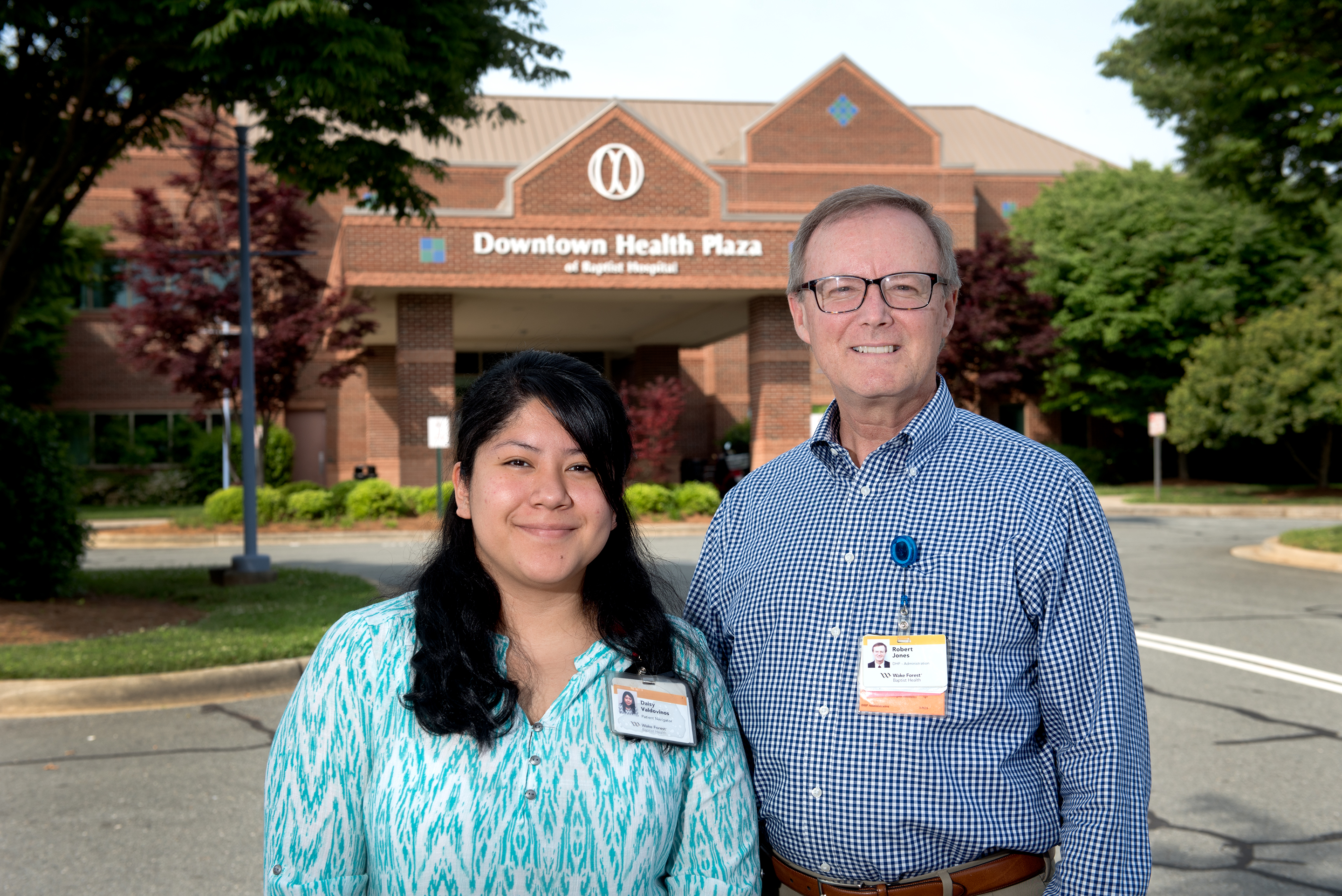 Patient navigator Daisy Valdovinos and director Robert Jones
To treat Ms. Jones — the whole person — Daisy knew she needed to intervene. They got right to work, together.
"We've learned that giving patients phone numbers to call, pamphlets to read or tasks to follow up with later just doesn't work," Daisy said. "While the patient was still onsite, we contacted Legal Aid about her lease. We contacted the water company about her bill. We called Medicaid transportation about getting back and forth to the clinic. We called the pharmacy to make sure she was getting all of the financial assistance she was entitled to. We just kept making calls."
Those calls turned out to be lifelines for Ms. Jones.
"It didn't happen that day. Or even that week," says Daisy. "But it really wasn't long before the dominoes started to tumble." And once they started, they just kept on tumbling. Legal Aid was able to get Ms. Jones out of her lease, and now she's in a great ground-floor apartment with zero bed bugs. Her knees are very happy. The large water bill was partially forgiven, so Ms. Jones no longer has to choose between water and food. Medicaid transportation now picks her up and brings her home when she needs to fill a prescription or come for an appointment.
"Most of us take these basic necessities for granted," said Daisy. "I feel so incredibly lucky to have this job where I can really make a difference for people who can never take shelter, food or transportation for granted. I get the chance to help heal the body by healing the mind."
How is Ms. Jones doing today? Very well. She still comes to her regular appointments at the center, but now she doesn't need to ask for a bus pass. That doesn't keep her from asking for Daisy, however, just to say hello and thank you. Every single visit.