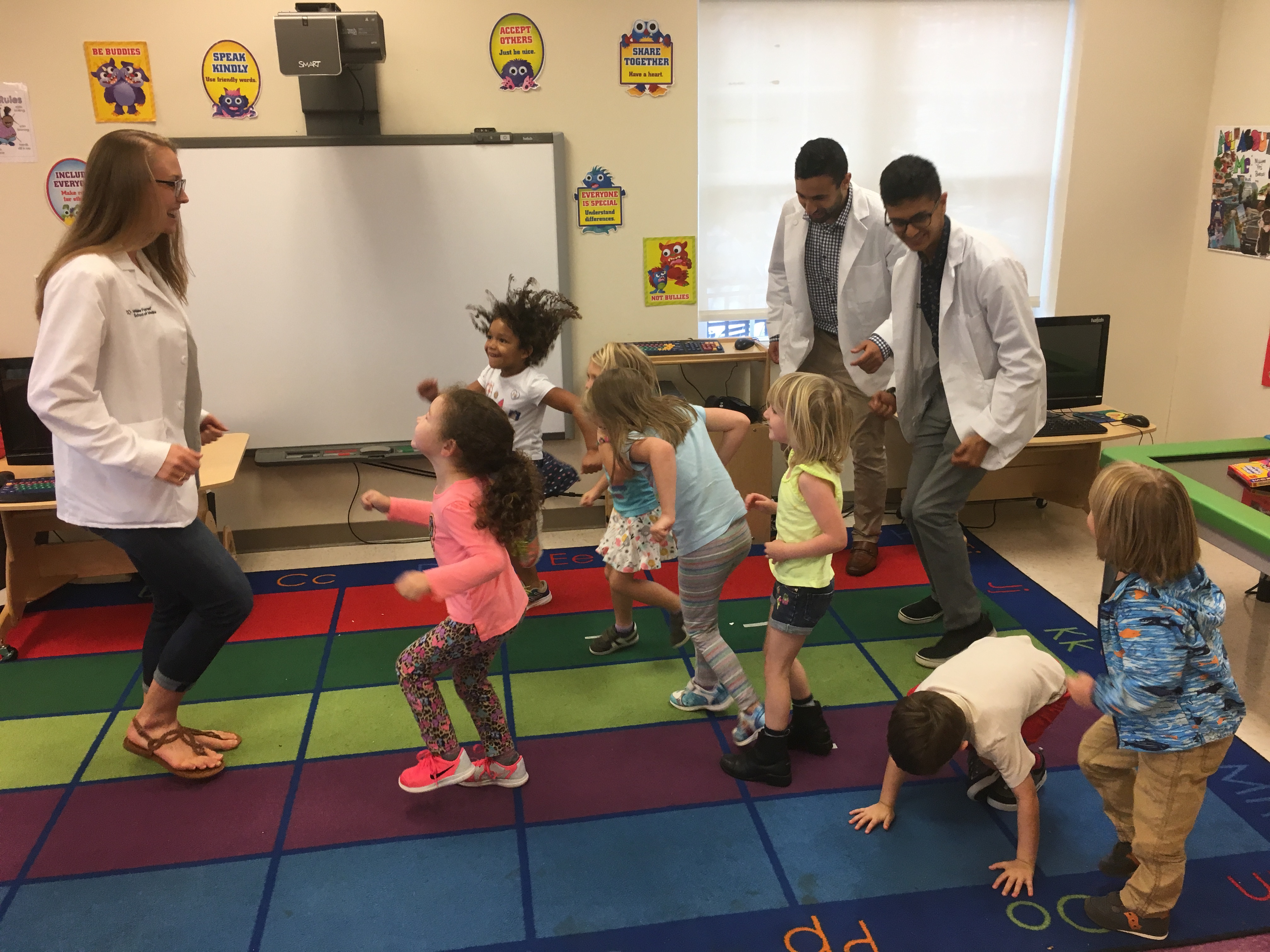 Wake Forest School of Medicine students have a long tradition of giving back to our community. That's why it's no surprise that Caitlin Krol, a Caitlin Krol at Mudpies Child Development Centersecond-year student and former college athlete, is so involved in the School of Medicine's Pediatric Interest Group.
The Pediatric Interest Group gives future physicians the chance to use their experience and expertise outside of the classroom.
"I absolutely love giving back to the community," said Caitlin. "I don't think of it as something that I have to do. It's really just a wonderful break from medical school.
Caitlin and other medical students volunteer at MudPies Child Development Centers. They help young children become comfortable around doctors and show them how important, and fun, nutrition and exercise can be. "We go over things like vaccinations, getting shots — and we teach them some techniques they can use to relax if they're nervous. We also talk about nutrition, healthy muscles and bones, and show them fun exercises."
For Caitlin, who grew up in a family that made physical activity and exercise a priority, it's a natural fit. She's a volunteer coach with Crazy Running, a local organization dedicated to improving children's health through running. "Running has always been a part of my life. Crazy Running is an after-school program that works with kids by making exercise fun, trying to give them not only an outlet but something that they can maintain for the rest of their lives."
So why do she and her peers take on the added burden, when school is already tough enough? According to Caitlin, it's all part of the education process. "Medical school, and being a doctor, is so much more than just learning how to study and learning how to take a test. A lot of it has to do with how you interact with people, how you interact with children, how you interact with their parents, you know. I would love to continue to coach, help these kids, mentor, any sort of advising stuff that I can do. I would absolutely love to do that."
In fact, despite her demanding schedule, Caitlin plans to continue volunteering with children during her remaining time at the School of Medicine, and throughout her career as a physician.