Current Residents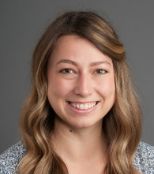 Allee Cox, PharmD, 2023
Hometown: Roanoke, VA
Pharmacy education: Virginia Commonwealth University School of Pharmacy
Clinical interests: Oncology, Academia, Pharmacogenomics
Research: Piperacillin/Tazobactam vs a Carbapenem for Definitive Treatment of Extended Spectrum β-lactamase Bacteremia
When I started my search for a residency program, I knew I wanted to be at a large academic medical center that would challenge me and provide a supportive environment where I could develop as a pharmacist and a person. The diverse selection of rotations combined with the 6-week rotation duration offered a novel way to explore my interest areas and perfect my skills. After my interview, I knew I had found the perfect place for me. Each pharmacist I spoke to increased my confidence that I would receive the comprehensive and challenging training I desired in an environment that would support me constantly. Since starting residency, I have enjoyed the unique opportunities here like volunteering at the DEAC clinic, mentoring pharmacy students with their APPE presentations, and teaching cardiac rehabilitation classes about medications. AHWFB has many strengths but the people that work here are what makes this place so special and I am surrounded each day by mentors and peers that have become my family. I am so grateful to be part of this program and hospital and I am looking forward to everything this year will bring!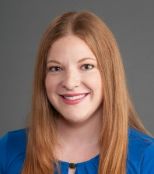 Sydney Markley, PharmD, 2023
Hometown: Parsons, KS
Pharmacy education: The University of Kansas
Clinical interests: Solid organ transplant, infectious diseases, internal medicine
Research: Implementation and Real-World Experience of a Clinical Pharmacist-Driven Cabotegravir/Rilpivirine HIV Clinic
When I was searching for residency programs, I knew I wanted to be at a large academic medical center that also had a wide variety of PGY-2 programs. I came across Wake Forest Baptist and attended an information session where I immediately fell in love with the program and the people. Everyone was so friendly and you could tell it was a great environment to be in. Additionally, the flexible rotation schedule was very appealing to me and I knew that this program would give me many opportunities to prepare me for being a successful clinical pharmacist. It also stuck out to me how important our mental health was to all of those involved in this program and how often people would check in to make sure us residents are doing ok. With the stress that comes with residency, this was an important component that I wanted in a program. Since starting my residency, I have been surrounded by the most amazing individuals who have made Wake Forest Baptist feel like home. This program has truly exceeded all of my expectations and I am positive that I will be a well-rounded clinical pharmacist ready to pursue the next steps in my career when my residency is complete.;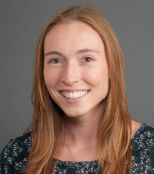 Ellen Montgomery, PharmD, 2023
Hometown: Davidson, NC
Pharmacy education: UNC Eshelman School of Pharmacy
Clinical Interests: Internal Medicine, Pain Management, Geriatrics
Research: The Impact of Pharmacy Involvement on Medicaid Gap Closure in Managed Medicaid Patients
Despite the stress of the residency application process, every interaction I had with a resident, preceptor, or the program director here at Wake Forest was uplifting and made me excited about residency! I was immediately drawn to the welcoming community and positive personalities of everyone I met, and knew that this program was something I wanted to be a part of. Beyond that, I was impressed by the wide range of opportunities available for residents to truly push their limits and practice at the top of their license while providing world-class patient care to a diverse patient population. Since being at Wake, I have been blown away by the preceptors' dedication to resident learning and the length the entire department of pharmacy is willing to go to to ensure that our experience will prepare us well for careers in clinical pharmacy. I knew choosing Wake for residency was a great decision, but I had no idea how much this place and these people would impact me even in the first few months here!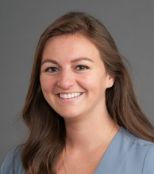 Maria Palmer, PharmD, 2023
Hometown: Baltimore, Maryland
Pharmacy education: The University of Maryland School of Pharmacy
Clinical interests: Pediatrics, Population Health, Academia
Research: Impact of Pediatric Population Health Pharmacists in the Ambulatory Care Setting
My strong interest in Atrium Health Wake Forest Baptist began when I attended one of the virtual informational sessions last Fall. I knew completing training at a large academic medical center with a diverse patient population, teaching experiences, and robust clinical opportunities would align with my career goals. I was drawn to the elective-based curriculum, which allows residents to personalize their clinical rotations to meet their individual interests, which is such a unique strength of the program! I initially worried it may be hard to assess what the culture was like over a virtual platform, but I was pleasantly surprised. I immediately felt welcomed by everyone I interacted with and instantly knew this place was special. I wanted to pursue residency at a place that challenged me to grow both personally and professionally, but also supported me and my aspirations. With every conversation I had with the RPD, residents, and preceptors, it was evident how genuinely supported everyone felt. Since starting my residency at AHWFB, all the unique aspects that drew me to AHWFB have been further reinforced. It is evident that everyone shares a passion for excellence, compassion, and dedication. I am so grateful to be a part of the AHWFB "family" and look forward to spending the next year with my co-residents (you all are the best)!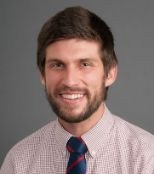 Chris Parish, PharmD, 2023
Hometown:Tampa, FL
Pharmacy education: UNC Eshelman School of Pharmacy
Clinical interests: Oncology, Infectious Diseases
Research: Evaluation of spontaneous bacterial peritonitis (SBP) microbiology at AHWFB to inform appropriate empiric antibiotic selection
Wake Forest Baptist undoubtedly "checks all the boxes" for a strong residency program, with a high level of pharmacy practice, top-notch preceptors, opportunities to mentor students, and an institutional commitment to excellence. However, the aspect of the residency program at Wake Forest that made it stand out to me was the emphasis on strong relationships as the foundation of personal and professional growth during residency. Program leadership, preceptors, and co-residents at Wake Forest support me holistically, challenging me to develop professionally in a manner that is sustainable for the long term. Residency is a busy and often stressful period of life, and it has been incredibly reassuring to know that I have a strong support system at Wake Forest Baptist to help build me up during easy and difficult times. If you are looking for a "people first" approach to residency, I would strongly encourage you to consider Wake Forest Baptist!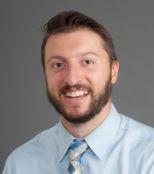 Brandon Smith, PharmD, 2023
Hometown: Westminster, Maryland
Pharmacy education: University of Maryland, Baltimore
Clinical interests: Critical Care and Oncology
Research: Time to Therapeutic Tacrolimus Levels in Heart Transplant Patients Using Fixed vs. Weight-Based Dosing
Atrium Health Wake Forest Baptist Medical Center truly is a special program. I could tell from my first interaction this place truly creates an environment where the people you work with are not simply your co-workers. This was really important to me because starting this residency would be the first time I lived outside of Maryland in my life. I needed to feel comfortable with the people I work with first and foremost, and that is where this program really excels. Although I could ramble on about the pharmacists here, there were several other factors that influenced my decision as well. Our rotations are six weeks long, allowing us to truly be independent by the latter half of the rotation. As someone with an interest in academia, I loved the opportunities to precept students from 4 different pharmacy schools and be the pharmacist that oversees a student-run clinic. I get to learn from pharmacists at the top of their respective fields at a hospital that promotes pharmacist involvement. Finally, I love that AHWFBMC has a large residency class. They prioritize choosing applicants that will do well together, inside and outside of the hospital. This program is everything I could have expected, and I believe that it will continue to become better as I progress through the year.
---
Past Residents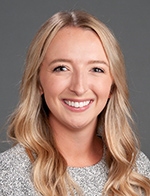 Abbie Benfield, PharmD, 2022
During the virtual residency application process, I was anxious I would be unable to assess which program would be the best fit for me. I was looking for programs that offered strong clinical rotations, PGY2 programs in my interest areas, robust research opportunities, and an emphasis on resident wellbeing. Immediately after my interview at Atrium Health Wake Forest Baptist, I knew this was where I was meant to be. Each interaction I had with the residency director, preceptors, and residents conveyed both a culture of excellence and a supportive, family-like environment. Since beginning this program, I continue to be more impressed each day by my pharmacy colleagues at Wake Forest Baptist. I am grateful to be training in a program that is dedicated to my personal wellbeing while also challenging me to become the best pharmacist I can be for my patients. I am looking forward to growing alongside my wonderful co-residents as we take on the year ahead!
Kallie Erickson, PharmD, 2022
I chose Wake Forest Baptist for the people and the encouraging learning environment. When I began researching residency programs, I knew that completing my PGY1 training at an academic medical center would allow me to become a well-rounded practitioner while also preparing me for the next step in my career. Wake Forest Baptist offers robust clinical rotation experiences while allowing residents to tailor rotations to their interests through numerous electives. Even through a year of virtual information sessions and virtual Midyear, Wake Forest Baptist consistently stood out. The supportive and caring culture of the program was evident when speaking with the current residents. During my interview, as I met even more preceptors and residents, that same feeling remained. I am so grateful to be a part of the Wake Forest Baptist pharmacy family. I look forward to a tremendous year of personal and professional growth.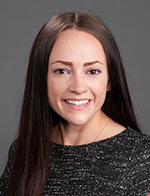 Jayda Esplund, PharmD, 2022
When searching for residency programs, I knew I wanted to be at a large academic medical center that provided diverse rotational experiences, teaching opportunities, and had a robust research program. Wake Forest Baptist easily fulfilled these criteria and the program's flexible rotation schedule and 6-week blocks were a huge advantage. Both allow me to personalize my residency year based on my interests and goals while also becoming fully immersed in each rotational experience. However, what stood out to me the most during the whole interview process was the family atmosphere. Even through virtual open house events and Webex interviews, I could feel the supportive culture that exists at Wake Forest Baptist. Since starting residency, this feeling has only become more evident. The preceptors, program directors, and pharmacy staff are always so helpful, make you feel at home immediately, and will do anything to help you succeed both professionally and personally. Wake Forest Baptist provides the perfect learning environment- challenging yet immensely supportive. I am so thankful to be a part of this program and cannot wait to see what the upcoming year will bring!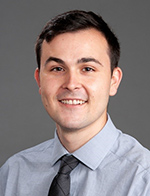 Nick Kane, PharmD, 2022
Attempting to navigate the pharmacy residency application process during the times of COVID was challenging for many reasons. One of the most difficult hurdles to overcome, however, was the inability to visit potential residency sites in-person. While program descriptions and features were available online, it was challenging to gauge institution and pharmacy-specific culture in the virtual setting. Despite these immense barriers, Wake Forest Baptist managed to convey their commitment to residents on both a professional and personal level. Not only did they offer everything on my residency checklist, including a flexible schedule with breadth and depth of rotations, commitment to research and publication, and avenues to teach and precept, but they also demonstrated a palpable sense of camaraderie and satisfaction in their work. I was confident that I had found the place that would allow me to develop as a pharmacist, in a sustainable and balanced fashion. During my time as a resident here at Wake Forest Baptist, the reasons that drew me to the program have not only been met, but have been exceeded. I couldn't ask for a better support network and environment to complete my residency training.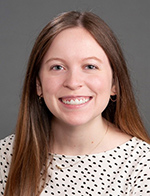 Olivia Randazza, PharmD, 2022
During my residency search, I sought to find a program that would provide a multitude of clinical and research experiences. Originally, I was drawn to Wake Forest Baptist due to the flexibility in rotation schedule and the ability to be surrounded by all types of learners in an academic medical center. As I gained more exposure to the program, I knew I would not only be provided these opportunities, but would also be taught by a progressive pharmacy team that truly strives for excellence in patient care. My interview day, while virtual, allowed me to interact one on one with so many amazing preceptors. Even through a computer screen, their passion for teaching and supporting the growth of residents was evident. I am honored to be a part of this program, and I look forward to tackling the challenge of PGY1 year in a supportive environment!
Caitlin Rousseau, PharmD, 2022
I had three priorities while looking at residency programs: rotational experiences in my interest areas, involvement in clinical research that positively impacts patient care, and the opportunity to participate in teaching the next generation of pharmacists by earning a teaching certificate. Many programs checked these boxes, but Wake Forest Baptist stood out far above the rest. Despite the virtual setting for interviews, the supportive nature and positive culture of the residents and pharmacists I interviewed with confirmed that it would truly be a privilege to be a resident here. I fully anticipate this year to be my biggest challenge yet, but I am thrilled to be part of a supportive environment that will push me to excel. Throughout the residency interview process Wake Forest Baptist felt like home and I'm excited to call it home for the next year!
Morgan Cantley, PharmD, 2021

Initially when looking at programs, I knew I wanted to be at an academic medical center that prioritized education and innovation with a myriad of rotation opportunities and PGY2 options. With multiple interest areas, the flexibility of rotation scheduling at Wake Forest Baptist and the 6-week rotation blocks have allowed me to become fully immersed in my rotation experiences so that I may confidently choose a career path that is best suited towards my interests. This flexibility would not be possible without the camaraderie among the pharmacy department and other health-care professionals throughout Wake Forest Baptist. The welcoming and supportive nature I felt throughout my interview continued to ring true when I stepped foot on campus as a resident. My preceptors, advisors, and co-residents genuinely care about my success while challenging me to be the best pharmacist I can be each day, and for these reasons, Wake Forest Baptist was the perfect fit for me!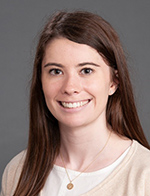 Catie Cash, PharmD, 2021

I was fortunate to participate in the Pharmacy Internship Program at Wake Forest Baptist as a student pharmacist and witness first-hand the compassionate care the pharmacy team provides for their patients. I was drawn to the family atmosphere and blown away by the dedication and commitment preceptors, program directors, and department leadership demonstrate for their students and residents alike. The elective-based curriculum has allowed me to personalize my residency experience based on my career goals, while the layered-learning approach and teaching certificate program have allowed me to pursue my passion for mentorship and academia. Finally, I was inspired by Wake Forest Baptist's commitment to philanthropy in the Winston-Salem community through the DEAC (Delivering Equal Access to Care) Clinic. The sense of community I felt as a student intern has only strengthened as Wake Forest Baptist has become the professional home I had been hoping for, and I am so grateful for the opportunity to serve our patients alongside the best co-residents, preceptors and mentors out there!
Jack Dierckes, PharmD, 2021

As I was researching residency programs, Wake Forest Baptist checked all of my boxes. The flexible rotation schedule paired with the diverse projects and teaching experiences offered at Wake Forest Baptist provided an opportunity to grow and develop as a professional and lay the groundwork for the rest of my career. However, the family feel of Wake Forest Baptist was what made them stand out the most. It was clear to me how invested the pharmacy department was in the development of their residents. Since starting my residency, I've been surrounded by supportive mentors and amazing co-residents that have further reinforced everything that stands out about Wake Forest Baptist. I'm so grateful to be a part of this program and excited for rest of the year!
Carolyn Hill, PharmD, 2021

As a P4 student applying for residency, I was searching for a program that was challenging enough to help me grow, but supportive enough to help me excel. Flexibility was also very important to me. I wanted to be at an academic medical center that offered diverse rotations, valued research, and provided opportunities to mentor and teach younger pharmacy students (those of you who are currently applying know that there are many schools that satisfy these criteria). But as I started to interact with representatives from different programs, Wake Forest Baptist consistently stood out. There is a strong sense of community and respect among the residents and preceptors here that has been evident throughout my entire experience; this sense of camaraderie really cemented my decision. I knew that I would be equally challenged and supported as I advanced in my training, and I couldn't wait to get started!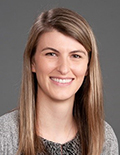 Lydia McKay, PharmD, 2021

It's hard to imagine a residency program full of people who care about their residents more than the preceptors and program directors at Wake Forest Baptist. After my interview, I knew that I would be valued not only as a developing pharmacist and practitioner, but as a person. The preceptors, program directors, and pharmacy staff have created a positive environment that facilities and encourages learning whether it be during rotation, staffing, or through research. Wake Forest Baptist has provided the tools and structure to develop my knowledge base and clinical skills while simultaneously allowing for flexibility to pursue my interests. One of the aspects that first attracted me to the program was the minimal required rotations. I was able to set up rotations to suit my interests and needs to really turn the residency into my own program. I am so thankful to be a part of the Wake Forest Baptist family and am excited to experience the rest of the year!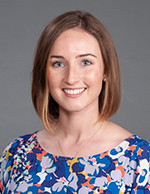 Katherine Taylor, PharmD, MBA, 2021

When making my residency decision, I knew that a program at a large academic medical center would provide access to the most diverse rotational experiences available and in turn, help me become a great clinical pharmacist. While these experiences were at the top of my professional considerations, I also wanted a community and network that would help me grow not just as a pharmacist, but, through support and mentorship, as a person. Throughout the interview process, it became abundantly clear that while publications, academic success, and challenging rotations are important, it is equally important to be a pharmacist with character. The goal at Wake Forest Baptist isn't just to develop the pharmacist, but to also develop the person. Since beginning the program, I have both witnessed and thrived within Wake Forest Baptist's community environment. For example, pharmacists are welcomed as part of the medical teams and medical residents ask countless questions as they navigate being a new physician. Additionally, attending physicians always encourage pharmacy's participation and respect our recommendations. Finally, pharmacy preceptors challenge you by fostering autonomy with an appropriate level of support. For me, Wake Forest Baptist is the perfect learning environment, and I can't wait to see what the rest of the year will bring.