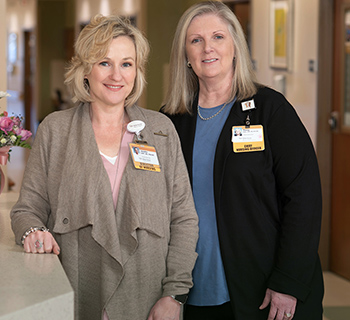 Two Wake Forest Baptist Health nursing leaders recently took time to talk about their background and experience and share their hopes for the new Birth Center.
Chief Nursing Officer Penny Blake, DNP, RN, NEA-BC, CENP, Brenner Children's Hospital and The Birth Center, and Director of Nursing for The Birth Center Jennifer Ingle, DNP, RN-BC, NEA-BC share the same vision - for our new Birth Center to be the gold standard of labor and delivery care.
What is your personal background and professional experience?
Penny:
I was born in Mount Airy and was influenced by nurses in the community. I graduated from UNC School of Nursing in 1982. My first nursing position was in the NICU here. I have remained on the maternal, infant and pediatric path my entire career with a focus in nursing leadership. (Penny has served as NICU Nurse Manager, Associate Director of Nursing, Director of Pediatrics, Director of NICU and Women's Services, and Director of Nursing.)
I have spent the majority of my career at Brenner Children's Hospital but also worked at Women's Hospital of Cone Health where I gained experience in labor and delivery and women's health. I received my master's degree in nursing administration in 1993 and doctorate in nursing practice in 2017, both at University of North Carolina – Greensboro.
I have three stepdaughters who are now adults. My husband and I adopted our youngest daughter who is a freshman at UNC. This has given me insight into designing labor and delivery services to accommodate all types of families.
Jennifer:
I was also born in Mount Airy, and my mother influenced me to go into nursing. She retired from Wake Forest Baptist Medical Center two years ago. (Priscilla Brim worked as a nurse for nearly 40 years in Critical Care and Cardiothoracic Surgery.)
My master's is from Walden University, and my Doctor of Nursing Practice is from UNC-Greensboro. I joined Wake Forest Baptist in September 1997 as a Nursing Assistant in Oncology. My journey to Brenner actually started when I became a Nurse Manager in Oncology in 2012. I also worked on 5CC West, the Women's Health Unit, as Nurse Manager.
I have a 17-year-old son, and he was delivered at Novant (Forsyth). I would have preferred to have delivered my son at Wake Forest Baptist; this is my family here.
How will The Birth Center affect the nursing staff?
Penny:
As an academic medical center, The Birth Center will impact all services and subspecialties providing multispecialty practice and training. The Birth Center completes the full spectrum of patient services on the Winston-Salem campus. Nursing staff now have the option to work in labor and delivery services.
Jennifer:
Now whenever nurses apply for positions in Women's Health, we can tell them we have GYN Oncology, GYN and Obstetrics. With the full women's health spectrum at this campus, we'll be more attractive to nurses seeking those positions.
What distinguishes Wake Forest Baptist Health and attracts the best nurses to work here?
Penny:
I would say it is our professional environment. As nurses, we have opportunities to grow professionally and advance in our careers here, as both Jennifer and I have been fortunate to do. The great teamwork with our colleagues is a satisfier. Our academic medical center offers exciting opportunities for learning and practice.
Jennifer:
We really promote innovation, which is key to providing the best care for patients. I appreciate being part of an organization that promotes innovation and creates an environment where people feel comfortable sharing their ideas.
How will the Birth Center ensure teamwork among all members of the care team?
Penny:
Teamwork is crucial in this fast-paced environment. The team must be cohesive and prepared for any emergency. We are offering extensive training for the care team by multiple experts. Many of the staff we are hiring for The Birth Center have already worked together in other environments. This is a wonderful opportunity to bring together the best of the best and build an expert team to meet the needs of mothers, infants and families.
Jennifer:
We will also use technology to help team members stay in touch with each other and for pregnant women to contact their care team. Technology will also allow us to give extended family members real-time updates about the labor and delivery process through text messaging.
What excites you most about the new Birth Center?
Penny:
I am excited about bringing families back together and supporting them. This can be a very happy time but also one when expert support is needed. With the Birth Center along with Brenner Children's Hospital, we are equipped to provide any level of support and care needed.
Jennifer:
I think the most exciting part is that our own employees can have their children near their families and in the environment where they are most comfortable.
How do you feel about making The Birth Center a reality?
Penny: I saw how hard it was for mothers and fathers to travel from another hospital to visit their baby in the NICU. It was heartbreaking. Being part of The Birth Center team is an honor and privilege for me. I could not be more honored to be a part of making this happen for these families.
Jennifer: As soon as I came on board with Penny, I realized that we shared the same vision for this center. It has been my vision since we started doing high-risk deliveries years ago. Our Birth Center will be the gold standard, just like every other service at Wake Forest Baptist Health.