Conveniently located in the heart of Davidson County, our Cancer Center offers a full range of services. As part of the Comprehensive Cancer Center at Wake Forest Baptist Medical Center in Winston-Salem, we provide nationally known cancer specialists and access to the latest treatments and technologies, all without leaving Lexington.
In partnership with general surgeons, surgical oncologists, plastic surgeons and specialists from Wake Forest Baptist, we offer multi-disciplinary care, streamlining diagnosis, treatment and follow-up. Our patients benefit from access to the latest research and clinical trials, many of which are available only at a Comprehensive Cancer Center.


Hematology and Medical Oncology Services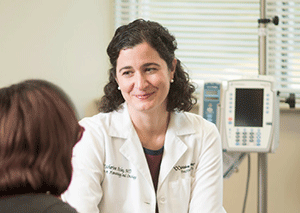 Diagnosis and treatment of cancer
Diagnosis and treatment of benign and malignant blood disorders
On-site infusion center with individual chemotherapy treatment areas for greater privacy
Patient consultations
Opportunity to participate in clinical trials and research taking place at Wake Forest Baptist's Comprehensive Cancer Center
Laboratory services
Learn more about Medical Oncology and Hematology - Lexington.
Radiation Oncology Services
Evaluation and management of cancer patients with radiation therapy
CT-based treatment planning: On-site CT interfaces with the treatment planning system, allowing the radiation oncologist to customize a treatment plan for each patient. With the use of sophisticated software, the physician can view the radiation dose 3-dimensionally, maximizing the cancer-killing radiation to the tumor while minimizing radiation to other areas of the body.
Our Linear Accelerator has image guidance capability with cone beam CT to improve the precision and accuracy of treatment delivery during each treatment session. This is especially useful in organs that move, such as the lungs, liver, pancreas and prostrate gland.
We offer Volumetric modulated arc therapy (VMAT), a novel radiation therapy technique that delivers the radiation dose continuously as the treatment machine rotates. This technique accurately shapes the radiation dose to the tumor while minimizing the dose to the organs surrounding the tumor in less time than IMRT.
Patient consultations
We currently have the only radiation oncologist in Davidson County.
Learn more about Radiation Oncology - Lexington.