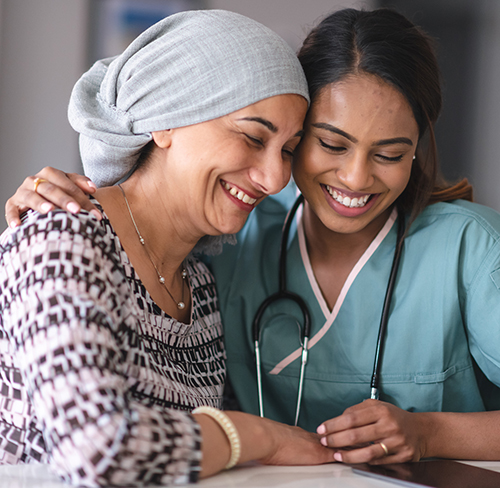 The time immediately following a cancer diagnosis can be an emotionally challenging time, raising many questions and creating anxiety for patients and their families.
The Oncology Nurse Navigator program at Wake Forest Baptist Health's Comprehensive Cancer Center assigns a nurse navigator for each new patient who falls within designated cancer disease types.
The Nurse Navigator serves as a patient's primary point of contact for coordination of care, navigation through the complexities of scheduling appointments and testing, and identification of financial counseling and other support services.
Our oncology nurse navigators are registered nurses who provide a broad spectrum of care to help patients, families and caregivers overcome cancer care barriers. They educate, advocate and coordinate care for each patient they serve.
Education:
Assist patients, families and caregivers in understanding a cancer diagnosis and treatment plan
Explain care protocols, paperwork, and provide assistance with completion of forms
Connect patients with financial counseling resources, including financial navigators
Coordination of Care:
Help to minimize the time it takes to be seen by a physician.
Coordinate care with other health care providers such as pharmacists, radiologists, and survivorship providers.
Ensure patients have proper referrals for care and assist in scheduling appointments.
Connect patients to cancer-related resources and support programs such as the Cancer Patient Support Program which offers services to enhance the quality of life for patients, family members and caregivers.
Advocacy:
Proactively identify opportunities for additional care, services and support for patients based on their specific needs.
Remain readily available for patients to contact about treatment, medication, symptoms, and quality of life concerns and supportive care.
Benefits of Having an Oncology Nurse Navigator:
Decreased time from diagnosis to treatment
Better understanding of diagnosis and care plan
Improved quality of life
Receive a partner in care and greater peace of mind knowing you have an advocate familiar with you and your cancer
Contact information:
You will be provided with direct contact information for your nurse navigator.

If you have a medical emergency, please call 911.