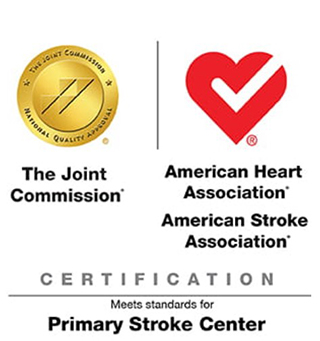 Wake Forest Baptist Health Lexington Medical Center holds the Gold Seal of Approval from The Joint Commission as a primary stroke center. This advanced certification means that Lexington Medical Center fulfills all the requirements set forth by The Joint Commission for stroke care plus additional, clinically specific requirements and expectations. The certification is awarded only to centers that make exceptional efforts to foster better outcomes for stroke care. Certification is based on the evaluation of standards, clinical practice guidelines and performance measurement activities.
The Joint Commission gives the certification to hospitals that are uniquely prepared with expertise to treat complex classes, leading to better outcomes. Lexington Medical Center is part of Wake Forest Baptist Medical Center's Comprehensive Stroke Center which extends the care that is provided to stroke patients.
In July 2020, Lexington Medical Center received the American Heart Association/American Stroke Association's Get With The Guidelines®-Stroke Gold Plus Quality Achievement Award. The award recognizes the hospital's commitment to ensuring stroke patients receive the most appropriate treatment according to nationally recognized, research-based guidelines based on the latest scientific evidence.
Lexington Medical Center earned the award by meeting specific quality achievement measures for the diagnosis and treatment of stroke patients at a set level for a designated period. These measures include evaluation of the proper use of medications and other stroke treatments aligned with the most up-to-date, evidence-based guidelines with the goal of speeding recovery and reducing death and disability for stroke patients. Before discharge, patients should also receive education on managing their health, get a follow-up visit scheduled, as well as other care transition interventions.
In addition to the Gold Plus Quality Achievement Award, Lexington Medical Center received the Association's Target: Type 2 Honor Roll award. To qualify for this recognition, hospitals must meet quality measures developed with more than 90 % of compliance for 12 consecutive months for the "Overall Diabetes Cardiovascular Initiative Composite Score."
Our quality and data reporting is managed through the American Heart Association's Get With The Guidelines program. Below are some of our quality metrics and data points. For complete quality reporting, visit: qualitynearme.heart.org/GWTGPublicReporting