Atrium Health Wake Forest Baptist Wilkes Medical Center named nurse Kendall Letendre as the hospital's latest DAISY Award winner on August 3, 2023.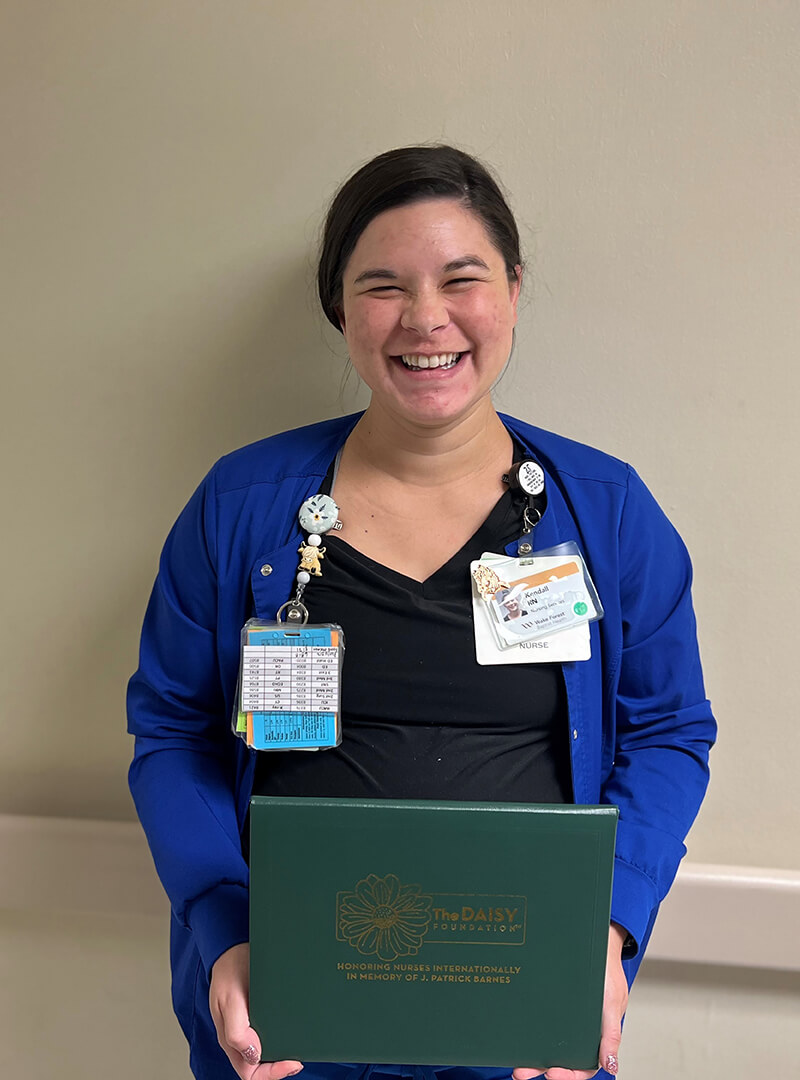 The DAISY Award is a nationwide program that rewards and celebrates the extraordinary clinical skill and compassionate care given by nurses every day. Wilkes Medical Center recognizes one of its nurses with this special honor every quarter. Each honoree receives a banner, certificate, DAISY Award pin and a hand carved "A Healer's Touch" stone sculpture.
"The reason why I got into nursing is because of my grandmother," Letendre said. "She was always in poor health for as long as I can remember. When I was a little girl, my mom would remind me to be careful with her legs. They were being treated for diabetic ulcers at that time. Several years later, my grandmother's doctor prescribed her patches to help with the wounds on her legs. I began taking pictures of her legs to show her doctor, who was impressed with the progress made. The doctor suggested showing them to the drug representative. Once the drug representative saw the photos, she was also impressed. She asked for permission to use the photos to help with promoting their product, in turn they donated skin grafts to my grandmother. During these visits to and from the clinic, I saw how much the staff helped my grandmother. I knew then that I wanted to help others the way the staff at the wound care center helped my grammie. I have always loved wound care because it's like arts and crafts, but with medical supplies and you get to watch the progress your patients make with each dressing change."
"Kendall transitioned to our IMC team in December of 2022 and immediately became an integral and welcomed part of the team," said Brandy Edmiston, Letendre's manager. "She is such a caring and compassionate nurse. She constantly goes above and beyond for her patients. This recognition was well deserved."
The next DAISY Award winner will be announced in October 2023.
Previous DAISY Winners